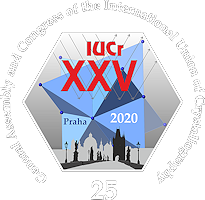 August 14 - 22, 2021 | Prague, Czech Republic
Conference Agenda
Overview and details of the sessions of this conference. Please select a date or location to show only sessions at that day or location. Please select a single session for detailed view (with abstracts and downloads if available).
Please note that all times are shown in the time zone of the conference. The current conference time is: 23rd Mar 2023, 12:03:16pm CET
Session
MS-44: Beyond pure point diffraction: Theory and application of diffuse scattering
Time:

Wednesday, 18/Aug/2021:

10:20am - 12:45pm


Session Chair: Nicolae Strungaru
Session Chair: Uwe Grimm

Location: Club H



100 1st floor
Invited: Chrizaldi Neil Manibo (Germany),  Ella Mara Schmidt (Germany)
Session Abstract
Traditionally crystallography was concerned with diffraction patterns exhibiting a set of distinct Bragg peaks. Following the discovery of quasicrystals a lot of different aperiodic structures and their diffraction patterns have been studied. Apart from pure point diffraction, systems with purely singular or absolutely continuous spectrum have been found, as well as systems with mixed spectra. On the other hand, experimentalists become more and more interested in diffuse scattering. Although a lot of progress has been made in the last decades, our knowledge of matter and its diffraction properties is still far from complete. This microsymposium intends to bring together mathematicians and experimentalists to present their new results and exchange ideas to improve our understanding of the various kinds of diffraction spectra.
For all abstracts of the session as prepared for Acta Crystallographica see PDF in Introduction, or individual abstracts below.
Introduction
Presentations
---
---
---
---
---
---