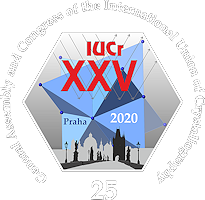 August 14 - 22, 2021 | Prague, Czech Republic
Conference Agenda
Overview and details of the sessions of this conference. Please select a date or location to show only sessions at that day or location. Please select a single session for detailed view (with abstracts and downloads if available).
Please note that all times are shown in the time zone of the conference. The current conference time is: 6th Dec 2022, 12:48:18am CET
Session
MS-24: Data-driven discovery in crystallography
Time:

Monday, 16/Aug/2021:

10:20am - 12:45pm


Session Chair: Olivier C. Gagné
Session Chair: Anton Oliynyk

Location: Club H



100 1st floor
Invited: Wenhao Sun (USA), Aria Mansouri Tehrani (Switzerland)
Session Abstract
The mining of large datasets and databases is now commonplace pursuit in science, and data-driven discovery has become an essential component of various fields of research (e.g., recommendation engines in materials sciences, data-driven optimization in engineering) and a significant contributing factor to their prolific output.
We propose to organize a session that will focus on the promotion and integration of data-driven discovery in crystallography, with primary focus on minerals, inorganic materials, and extended inorganic solids. This session will showcase recent works that have employed large data resources, computational-driven approach, machine-learning guidance, and advanced analytical methods to realize large-scale patterns in the solid state leading to discovery.
For all abstracts of the session as prepared for Acta Crystallographica see PDF in Introduction, or individual abstracts below.
Presentations
10:20am - 10:25am
Introduction to session
---
10:25am - 10:55am
Unsupervised Knowledge Discovery in 'Big' Materials Data
University of Michigan, Ann Arbor, United States of America
---
10:55am - 11:25am
Predicting ground state and metastable crystal structures using elemental and phonon mode
ETH Zurich, Zurich, Switzerland
---
11:25am - 11:45am
Beyond the constraints of chemistry: Crystal structure discovery in particle simulations
1University of Michigan, Ann Arbor, MI, USA; 2Cornell University, Ithaca, NY, USA; 3University of California, San Francisco, CA, USA; 4Argonne National Laboratory, Argonne, IL, USA; 5Friedrich-Alexander University Erlangen-Nürnberg, Erlangen, Germany
---
11:45am - 12:05pm
Data-driven approaches on pair distribution function data: matrix factorization and clustering
Carnegie Mellon University, Pittsburgh, United States of America
---
12:05pm - 12:25pm
First-principle diffraction simulations as a tool to solve the nanodiffraction problem
1Ozyegin University, Istanbul, TURKEY; 2Columbia University, New York, USA
---
12:25pm - 12:45pm
Study of noncovalent interactions using crystal structure data in the Cambridge Structural Database
1Innovation center of the Faculty of Chemistry, Belgrade, Serbia; 2Institute of Chemistry, Technology and Metallurgy, University of Belgrade, Belgrade, Serbia; 3Faculty of Chemistry, Belgrade University, Belgrade, Serbia