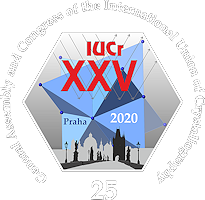 August 14 - 22, 2021 | Prague, Czech Republic
Conference Agenda
Overview and details of the sessions of this conference. Please select a date or location to show only sessions at that day or location. Please select a single session for detailed view (with abstracts and downloads if available).
Please note that all times are shown in the time zone of the conference. The current conference time is: 6th Dec 2022, 12:31:54am CET
Session
MS-8: Social media and new frontiers for spreading crystallographic
Time:

Sunday, 15/Aug/2021:

10:20am - 12:45pm


Session Chair: Andrea Ienco
Session Chair: Helen Maynard-Casely

Location: Club D



50 1st floor
Invited: Delphine Chenevier (France), Rhiannon Morris (Australia)
Session Abstract
How do people outside of the scientific life, learn about crystallography?  After the massive efforts of the international year of crystallography in 2014, how are crystallographic ideas being communicated now?  For this session we welcome contributions on how social media and new technology is being used to spread the science of crystallography and its application as far as possible inside and outside the crystallographic community. 
For all abstracts of the session as prepared for Acta Crystallographica see PDF in Introduction, or individual abstracts below.
Presentations
10:20am - 10:25am
Introduction to session
---
10:25am - 10:55am
Humanising science to reach new audience
ESRF, Grenoble, France
---
10:55am - 11:25am
Using social media to make crystallography accessible
Walter and Eliza Hall Institute,Parkville, Australia
---
11:25am - 11:45am
Using social media to share the wonders of crystallography - perspectives from a structural database
Cambridge Crystallographic Data Centre, Cambridge, United Kingdom
---
11:45am - 12:05pm
Memes: a new avenue for spreading crystallographic knowledge for the next generation
1School of Chemical Sciences, University of Auckland, 23 Symonds Street, Auckland 1010, New Zealand; 2Macdiarmid Institute for Advanced Materials and Nanotechnology, Victoria University of Wellington, Wellington 6140, New Zealand
---
12:05pm - 12:25pm
The Building Blocks of Battery Technology: Inspiring the next generation of battery researchers
1School of Chemistry, The University of Birmingham, Edgbaston, B15 2TT, UK; 2School of Education, The University of Birmingham, Edgbaston, B15 2TT, UK; 3School of Metallurgy and Materials, The University of Birmingham, Edgbaston, B15 2TT, UK
---
12:25pm - 12:45pm
Social media for the growth of a scientific community: the case of the Italian Young Crystallographers Group
University of Parma, Parma, Italy