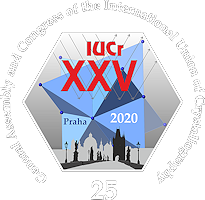 August 14 - 22, 2021 | Prague, Czech Republic
Conference Agenda
Overview and details of the sessions of this conference. Please select a date or location to show only sessions at that day or location. Please select a single session for detailed view (with abstracts and downloads if available).
Please note that all times are shown in the time zone of the conference. The current conference time is: 26th Nov 2022, 12:41:26pm CET
Session
MS-83: High pressure crystallography
Time:

Friday, 20/Aug/2021:

2:45pm - 5:10pm


Session Chair: Lars Ehm
Session Chair: Jon Henry Eggert
Session Chair: Vitali Prakapenka
Session Chair: Przemyslaw Dera

Location: Terrace 2A



130 2nd floor
Merged sessions
Invited: June Wicks (USA), Rachel Husband (Germany)
Session Abstract
The emergence of dynamic compression techniques coupled with time-resolved characterization techniques at 3rd and 4th generation synchrotron sources has greatly enhanced our capabilities to study the processes in materials submitted to high-strain rates and high temperatures.
This micro symposium will highlight the recent scientific breakthroughs in the investigation of atomic structure and atomic scale processes in the dynamic compression regime.
Presentations
2:45pm - 2:50pm
Introduction to session
---
2:50pm - 3:20pm
Experimental measures of the orientation dependence of the B1-B2 transformation in shock-compressed MgO
Johns Hopkins University, Baltimore, United States of America
---
3:20pm - 3:50pm
Simultaneous imaging and diffraction of phase transitions at intermediate compression rates
1DESY, Notkestrasse 85, 2260 Hamburg, Germany; 2Lawrence Livermore National Laboratory, 7000 East Avenue, L-041 Livermore, CA 94550, USA
---
3:50pm - 4:10pm
Phase Changes in Dynamically Compressed Water
1University of Rostock, Rostock, Germany; 2Helmholtz-Zentrum Dresden-Rossendorf, Dresden, Germany; 3Laboratoire LULI, Ecole Polytechnique, Palaiseau, France; 4SLAC National Accelerator Laboratory, Menlo Park, USA; 5University of Oslo, Oslo, Norwa
---
4:10pm - 4:30pm
Investigations of the high-pressure, high-temperature behaviour of Au using laser-driven dynamic compression
Lawrence Livermore National Laboratory, Livermore, United States of America
---
4:30pm - 4:50pm
Mineral inclusions as models to characterize deviatoric stress in single crystals
1University of Pavia, Pavia, Italy; 2Istituto di Geoscienze e Georisorse, Padua, Italy; 3Elettra Sincrotrone, Basovizza, Trieste, Italy
---
4:50pm - 5:10pm
High-pressure low-temperature phase transitions and structural development in quasi-two-dimensional transition metal oxychlorides
1University of Bayreuth, Laboratory of Crystallography, Bayreuth, Germany; 2Carnegie Institution of Washington, Geophysical Laboratory, Washington DC, USA; 3Howard University, Washington DC, USA; 4Photon Sciences, Deutsches Elektronen-Synchrotron (DESY), Hamburg, Germany