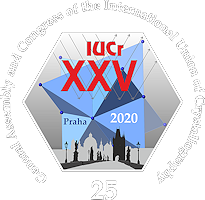 August 14 - 22, 2021 | Prague, Czech Republic
Conference Agenda
Overview and details of the sessions of this conference. Please select a date or location to show only sessions at that day or location. Please select a single session for detailed view (with abstracts and downloads if available).
Please note that all times are shown in the time zone of the conference. The current conference time is: 6th Dec 2022, 12:43:48am CET
Session
MS-80: 4th generation SR and XFEL Facilities
Time:

Friday, 20/Aug/2021:

10:20am - 12:45pm


Session Chair: Makina Yabashi
Session Chair: Sofia Diaz-Moreno

Location: Terrace 2A



130 2nd floor
Invited: Jean Susini (France)
Session Abstract
Recent advance of accelerator technologies has promoted the emergence of ultrabrilliant, coherent x-ray sources such as 4th generation synchrotron light sources and X-ray free-electron lasers (XFELs). The former renovates a vast range of scientific applications with an ultralow-emittance storage-ring source, while the latter enables ultimate "snapshot" observation using intense, femtosecond X-ray pulses. This microsymposium will focus on new scientific opportunities and perspectives enabled with these novel sources. It also covers advanced applications of X-ray absorption spectroscopy (XAS) achieved with the new sources.
Presentations
10:20am - 10:25am
Introduction to session
---
10:25am - 10:55am
The ultra-low emittance synchrotron storage rings: a new paradigm for matter characterization.
Synchrotron SOLEIL, Gif sur Yvette, France
---
10:55am - 11:15am
Ultrafast structural changes in matter induced by intense X-ray free-electron laser pulses
1RIKEN SPring-8 Center, 1-1-1 Kouto, Sayo, Hyogo 679-5148, Japan.; 2Japan Synchrotron Radiation Research Institute, Kouto 1-1-1, Sayo, Hyogo 679-5198, Japan; 3University of Tsukuba, Tsukuba, Ibaraki 305-8571, Japan.
---
11:15am - 11:35am
Pink-beam serial femtosecond crystallography for accurate structure factor determination at an X-ray free electron laser
1Paul Scherrer Institut, Forschungstrasse 111, Villigen, 5232, Switzerland; 2Center for Free-Electron Laser Science, Notkestrasse 85, Hamburg, 22607, Germany
---
11:35am - 11:55am
Towards a structural biology at organism relevant temperature and chemical conditions
University of Manchester, Manchester, United Kingdom
---
11:55am - 12:15pm
Ultrafast dynamical diffraction wavefronts in strained Si imagined with Tele-ptychography
1Eu XFEL GmbH, Schenefeld, Germany; 2Paul Scherrer Institute, Villigen PSI, Switzerland; 3Chalmers University of Technology, Gothenburg, Sweden; 4MAX IV, Lund University, Lund, Sweden
---
Advances with EIGER2 (CdTe) detectors for Synchrotron and Laboratory
Dectris Ltd, Baden-Daettwil , Switzerland