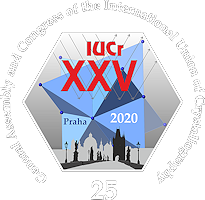 August 14 - 22, 2021 | Prague, Czech Republic
Conference Agenda
Overview and details of the sessions of this conference. Please select a date or location to show only sessions at that day or location. Please select a single session for detailed view (with abstracts and downloads if available).
Please note that all times are shown in the time zone of the conference. The current conference time is: 6th Dec 2022, 02:47:30am CET
Session
MS-85: Science meets art: Crystallography and cultural heritage
Time:

Friday, 20/Aug/2021:

2:45pm - 5:10pm


Session Chair: Alicja Rafalska-Lasocha
Session Chair: Petr Bezdicka

Location: Club H



100 1st floor
Invited: Koen Janssens (Belgium), Sebastian Bette (Germany)
Presentations
2:45pm - 2:50pm
Introduction to session
---
2:50pm - 3:20pm
Fingerprinting Natural Ultramarine in 15th-17th century Netherlandish paintings
1University of Antwerp, Antwerp, Belgium; 2Royal Institute for Cultural Heritage, Brussels, Belgium; 3Fine Arts Museum, Brussels, Belgium; 4Rijksmuseum, Amsterdam, The Netherlands
---
3:20pm - 3:50pm
The variety of calcium bearing efflorescence phases - An explanation by crystal chemistry
1Max-Planck-Institute for Solid State Research, Stuttgart, Germany; 2State Academy of Art and Design, Stuttgart, Germany
---
3:50pm - 4:10pm
Why is heptagonal symmetry so rare in art and architecture?
Institut Européen des Membranes, Université de Montpellier, ENSCM, CNRS, Montpellier, France
---
4:10pm - 4:30pm
Crystallography vs. human masterpiece: Li20Mg6Cu13Al42, Mg9Ni6Ga14 and Mg3Ni2Ga structures vs. ivory puzzle balls
1Ivan Franko National University of Lviv, Lviv, Ukraine; 2Częstochowa Jan Długosz University, Częstochowa, Poland; 3Karlsruhe Institute of Technology, Karlsruhe, Germany
---
4:30pm - 4:50pm
Information theory based symmetry classifications of more or less 2D periodic patterns in Islamic building ornaments and Hans Hinterreiter's graphic art
Portland State University, PORTLAND, Oregon, USA
---
4:50pm - 5:10pm
Laboratory X-ray powder diffraction as a useful tool for identification of pigments and degradation products in portrait miniatures painted on ivory
1Institute of Inorganic chemistry of the Czech Academy of Sciences, ALMA Laboratory, Husinec-Řež 1001, 250 68 Husinec-Řež, Czech Republic; 2Academy of Fine Arts in Prague, ALMA Laboratory, Veletržní 65, 170 00 Praha 7, Czech Republic