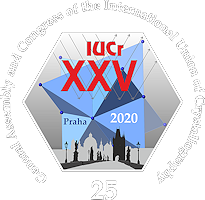 August 14 - 22, 2021 | Prague, Czech Republic
Conference Agenda
Overview and details of the sessions of this conference. Please select a date or location to show only sessions at that day or location. Please select a single session for detailed view (with abstracts and downloads if available).
Please note that all times are shown in the time zone of the conference. The current conference time is: 6th Dec 2022, 02:32:50am CET
Session
MS-94: Organic minerals, metal-organic frameworks, and metal-oxygen clusters: the emergent interface of geochemistry and crystal engineering
Time:

Saturday, 21/Aug/2021:

10:20am - 12:45pm


Session Chair: Igor Huskić
Session Chair: Tomoji Ozeki

Location: Club D



50 1st floor
Invited: Helen Maynard-Casely (Australia), Ulrich Kortz (Germany)
Session Abstract
In recent years, discoveries of naturally occurring species with properties and structures similar to those of metal-organic frameworks (MOFs), polyoxometallates (POMs) and others have challenged the view of the latter as purely synthetic, man-made materials. Moreover, the application of  geomimetic synthetic methods such as accelerated ageing or pseudomorphic replication has enabled a more facile, environmentally friendly synthesis of materials with controllable properties. The guiding principles behind chemistry and crystal engineering are easily identifiable in these natural materials and processes. The topic of this microsymposium is centered on the emerging interface of geological and chemical species and methods, aiming to provide a platform for the exchange of ideas and experiences across the fields of materials science, chemistry and geology. This synergy will lead towards prediction of as of yet undiscovered mineral species and the hierarchical design and synthesis of novel functional materials utilizing biological and synthetic complex building blocks.
Presentations
10:20am - 10:25am
Introduction to session
---
10:25am - 10:55am
Discrete polyoxometalates: from geochemistry via crystal engineering to functional materials
Jacobs University, Bremen, Germany
---
10:55am - 11:25am
Exploration of organic minerals on Saturn's moon Titan
1Australian Nuclear Science and Technology Organisation, Kirrawee DC, Australia; 2NASA Jet Propulsion Laboratory, California Institute of Technology, Pasadena, CA, USA; 3Department of Chemistry, Southern Methodist University, Dallas, TX, USA
---
11:25am - 11:45am
A Crystal Flask Composed of Huge Cage-of-Cage Metallosupramolecules for the Formation of Polyoxomolybdate
Osaka University, Osaka, Japan
---
11:45am - 12:05pm
Autonomous Recombination and Selfhealing of Fracture in Piezoelectric Organic Crystals: Scopes in Crystal Engineering
Department of Chemical Sciences, Indian Institute of Science Education and Research (IISER) Kolkata, Kolkata, India
---
12:05pm - 12:25pm
Encapsulations of terpenes, aromatic and non-aromatic compound in metal-organic framework via the crystalline sponge method.
University College London, London, United Kingdom
---
12:25pm - 12:45pm
Correlated Linker Disorder in Metal-Organic Frameworks
University of Oxford, Oxford, United Kingdom