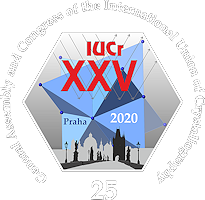 August 14 - 22, 2021 | Prague, Czech Republic
Conference Agenda
Overview and details of the sessions of this conference. Please select a date or location to show only sessions at that day or location. Please select a single session for detailed view (with abstracts and downloads if available).
Please note that all times are shown in the time zone of the conference. The current conference time is: 26th Nov 2022, 02:22:22pm CET
Session
MS-51: Molecular magnets and metal-organic frameworks including quantum crystallography approaches
Time:

Wednesday, 18/Aug/2021:

2:45pm - 5:10pm


Session Chair: Jozef Kozisek
Session Chair: Verónica Paredes-García

Location: Club B



50 1st floor
Invited: Ivan Němec (Czech Republic), Lorraine Andrade Malaspina (France)
Session Abstract
For all abstracts of the session as prepared for Acta Crystallographica see PDF in Introduction, or individual abstracts below.
Presentations
2:45pm - 2:50pm
Introduction to session
---
2:50pm - 3:20pm
Semicoordination in Co(II) Single-Ion Magnets
1Palacky University, Olomouc, Czech Republic; 2Ceitec Brno Univeristy of Technology, Czech Republic
---
3:20pm - 3:50pm
Quantum crystallography of systems with agostic interactions
University of Bern, Department of Chemistry, Biochemistry and Pharmaceutical Sciences, Switzerland
---
3:50pm - 4:10pm
Field-dependent magnetic anisotropy in a single-ion magnet measured using polarized neutron powder diffraction
1Dept. of Chemistry, Aarhus University, Langelandsgade 140, 8000 Aarhus C, Denmark; 2Laboratorie Léon Brillouin, CEA-CNRS, CE-Saclay, 91191 Gif-sur-Yvette, France
---
4:10pm - 4:30pm
Through-space intervalence charge transfer in cobalt based Metal-organic framework: an experimental and theoretical study
IISER THIRUVANANTHAPURAM, KERALA, INDIA
---
4:30pm - 4:50pm
Magnetism of 2D Thiocyanates
1School of Chemistry, University of Nottingham, University Park, United Kingdom; 2Institut Laue Langevin, Grenoble, France; 3Dept. of Chemistry, Lensfield Road, University of Cambridge
---
4:50pm - 5:10pm
High-Pressure Studies of Single-Molecule Magnets
Dept. of Chemistry, Aarhus University, Langelandsgade 140, 8000 Aarhus C, Denmark