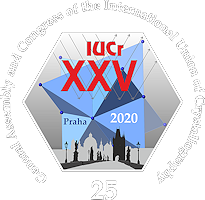 August 14 - 22, 2021 | Prague, Czech Republic
Conference Agenda
Overview and details of the sessions of this conference. Please select a date or location to show only sessions at that day or location. Please select a single session for detailed view (with abstracts and downloads if available).
Please note that all times are shown in the time zone of the conference. The current conference time is: 1st Dec 2023, 05:09:15am CET
Session
MS-45: Frustrated magnetic order and emerging science
Time:

Wednesday, 18/Aug/2021:

10:20am - 12:45pm


Session Chair: Romain Sibille
Session Chair: Geetha Balakrishnan

Location: Club C



50 1st floor
Invited: Beauvois Ketty (France), Nicolas Gauthier (USA)
Session Abstract
The microsymposium focuses on the recent developments in the field of frustrated magnetism. Submissions are welcome in the field of (quantum) spin liquids, frustrated long-range orders and emerging properties (spin ices, chiral, zig-zag magnetic structures, spin-nematics, spin
liquids…).
For all abstracts of the session as prepared for Acta Crystallographica see PDF in Introduction, or individual abstracts below.
Introduction
Presentations
10:20am - 10:25am
Introduction to session
---
10:25am - 10:55am
Dimer physics in the frustrated Cairo pentagonal antiferromagnet Bi2Fe4O9
1Institut Laue Langevin, Grenoble, France; 2CEA, IRIG/DEPHY/MEM-MDN, Grenoble, France; 3Institut Néel, CNRS, Grenoble, France; 4CEA-CNRS, LLB Saclay, France; 5Institute of Solid State Physics, Bulgarian Academy of Sciences, Bulgaria; 6Russian Academy of science, Russia; 7Universitat Autonoma de Barcelona, Spain
---
---
---
11:45am - 12:05pm
Geometric frustration on the trillium lattice in a magnetic metal–organic framework
1Inorganic Chemistry Laboratory, University of Oxford, South Parks Rd., Oxford OX1 3QR, U.K; 2Materials Science and Technology Division, Oak Ridge National Laboratory, Oak Ridge, TN 37831, U.S.A.; 3Churchill College, University of Cambridge, Storey's Way, Cambridge CB3 0DS, U.K.; 4Institut Laue-Langevin, BP156, 71 Avenue des Martyrs, 38000, Grenoble, France; 5Institut Néel, 25 Avenue des Martyrs, 38042 Grenoble, France; 6Department of Chemistry, University of Bergen, P.O. Box 7803, N-5020 Bergen, Norway; 7Department of Fundamental Chemistry and CICA, Faculty of Sciences University of A Coruña, 15071 A Coruña, Spain; 8School of Physical Sciences, University of Kent, Canterbury CT2 7NH, U.K.
---
---
12:25pm - 12:45pm
Nanoscale distortions and ground state selection in geometrically frustrated magnets
1Foundation for Research and Technology - Hellas, 71110 Heraklion, Crete, Greece; 2Brigham Young University, Provo, Utah 84602, USA; 3Brookhaven National Laboratory, Upton, New York 11973, USA