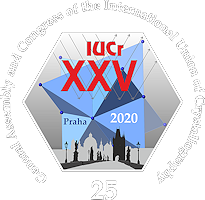 August 14 - 22, 2021 | Prague, Czech Republic
Conference Agenda
Overview and details of the sessions of this conference. Please select a date or location to show only sessions at that day or location. Please select a single session for detailed view (with abstracts and downloads if available).
Please note that all times are shown in the time zone of the conference. The current conference time is: 6th Dec 2022, 02:26:18am CET
Session
MS-27: New trends in pharmaceutical materials
Time:

Monday, 16/Aug/2021:

2:45pm - 5:10pm


Session Chair: Nikoletta B. Bathori
Session Chair: Laszlo Fabian

Location: Club D



50 1st floor
Invited: Tonglei Li (USA), Doris Braun (Austria)
Session Abstract
For all abstracts of the session as prepared for Acta Crystallographica see PDF in Introduction, or individual abstracts below.
Presentations
2:45pm - 2:50pm
Introduction to session
---
2:50pm - 3:20pm
Troublesome hydrates of alkaloids
University of Innsbruck, Innsbruck, Austria
---
3:20pm - 3:50pm
Kinetic Retraction at the Onset of Concomitant Crystallization
Purdue University, West Lafayette, United States of America
---
3:50pm - 4:10pm
"Particle Informatics": Evolving methods for understanding particle properties
Cambridge Crystallographic Data Centre, Cambridge, United Kingdom
---
4:10pm - 4:30pm
A Novel Physics-based Ensemble Modeling Approach that Utilizes Crystal Packing to Predict Aqueous Thermodynamic Solubility
Solid-State Chemistry, Abbvie, North Chicago, United States of America
---
4:30pm - 4:50pm
The harvesting of small molecule structure and dynamic data for macromolecular and catalytic usage.
University of the Free State, Bloemfontein, South Africa
---
4:50pm - 5:10pm
Absolute configuration directly determined from 3D electron diffraction data
1Institute of Physics, Czech Academy of Sciences, Prague, Czech Republic; 2Institute of Inorganic Chemistry, Leibniz University Hannover, Hannover, Germany