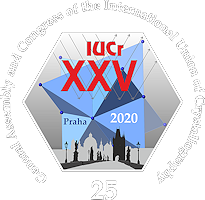 August 14 - 22, 2021 | Prague, Czech Republic
Conference Agenda
Overview and details of the sessions of this conference. Please select a date or location to show only sessions at that day or location. Please select a single session for detailed view (with abstracts and downloads if available).
Please note that all times are shown in the time zone of the conference. The current conference time is: 6th Dec 2022, 02:18:09am CET
Session
MS-38: Structural, electronic and magnetic ordering: From fundamental physics to functionality
Time:

Tuesday, 17/Aug/2021:

10:20am - 12:45pm


Session Chair: Javier Sanchez-Benitez
Session Chair: Ovidiu Garlea

Location: Club C



50 1st floor
Invited: Christian Balz (USA), Mark Senn (UK)
Session Abstract
Spin-orbit coupling and correlated electron behavior in 4d and 5d materials, stripes, orbital order, Jahn-Teller, superconductivity
For all abstracts of the session as prepared for Acta Crystallographica see PDF in Introduction, or individual abstracts below.
Presentations
10:20am - 10:25am
Introduction to session
---
10:25am - 10:55am
Magnetic Phase diagram of alpha-RuCl3
Oak Ridge National Laboratory, Oak Ridge, United States of America
---
10:55am - 11:25am
Striping of orbital-order with charge-disorder in optimally doped manganites
University of Warwick, Coventry, United Kingdom
---
11:25am - 11:45am
Formation and ordering of orbital molecules in AV2O4 spinels
1School of Chemistry, University of St Andrews, North Haugh, St Andrews KY16 9ST, United Kingdom; 2Centre for Science at Extreme Conditions and School of Chemistry, University of Edinburgh, West Mains Road, Edinburgh EH9 3FD, United Kingdom
---
11:45am - 12:05pm
Perovzalates: a family of perovskite-related oxalates
1Department of Chemistry - Ångstrom Laboratory, Uppsala University, 751 21 Uppsala, Sweden; 2School of Chemistry, University of St Andrews, St Andrews, Fife, KY16 9ST, UK; 3School of Physics, University of St Andrews, St Andrews, Fife, KY16 9SS, UK
---
12:05pm - 12:25pm
Aurivillius oxyfluorides: nuclear and magnetic order and the role of the anion sublattice
Durham University, Durham, United Kingdom
---
12:25pm - 12:45pm
Intermartensitic transformation between modulated structures in Heusler Ni-Mn-Ga(-Fe) single crystals
1FZU - Institute of Physics of the Czech Academy of Sciences, Na Slovance 1999/2, 18221 Prague 8, Czech Republic; 2Faculty of Nuclear Sciences and Physical Engineering, Czech Technical University in Prague, Trojanova 13, 12000 Prague 2, Czech Republic; 3Faculty of Mathematics and Physics, Charles University, Ke Karlovu 5, 12116 Prague 2, Czech Republic; 4Institut Laue-Langevin, 71 avenue des Martyrs, CS 20156, 38042 Grenoble cedex 9, France