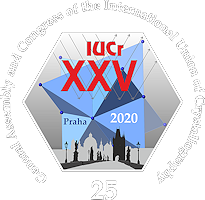 August 14 - 22, 2021 | Prague, Czech Republic
Conference Agenda
Overview and details of the sessions of this conference. Please select a date or location to show only sessions at that day or location. Please select a single session for detailed view (with abstracts and downloads if available).
Please note that all times are shown in the time zone of the conference. The current conference time is: 1st Dec 2023, 05:16:03am CET
Session
MS-64: In-situ and time resolved electron crystallography
Time:

Thursday, 19/Aug/2021:

10:20am - 12:45pm


Session Chair: Andrew Alexander Stewart
Session Chair: Eva Olsson

Location: Club H



100 1st floor
Invited: David Flannigan (USA), Maria Batuk (Belgium)
Session Abstract
Nowadays, many measurements are performed in-situ in the electron microscopes. This allows direct measurements of physical and chemical properties of materials and correlation of these properties to microstructure and atomic structure of nano-sized materials. For example: advances such as in-situ electrochemical cells allow direct observation of the behavior of the batteries` materials during charge and discharge cycles.
For all abstracts of the session as prepared for Acta Crystallographica see PDF in Introduction, or individual abstracts below.
Introduction
Presentations
10:20am - 10:25am
Introduction to session
---
---
---
---
11:50am - 12:15pm
Discovering and transforming precipitate phases in aluminium alloys using in situ transmission electron microscopy
1Monash Centre for Electron Microscopy, Monash University, Australia; 2Department of Materials Science and Engineering, Monash University, Australia; 3Electron Microscopy for Materials Research, University of Antwerp, Belgium; 4Department of Materials, University of Oxford, UK; 5Thermofisher Scientific, The Netherlands
---