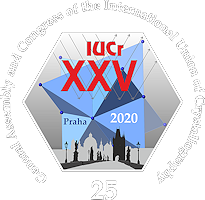 August 14 - 22, 2021 | Prague, Czech Republic
Conference Agenda
Overview and details of the sessions of this conference. Please select a date or location to show only sessions at that day or location. Please select a single session for detailed view (with abstracts and downloads if available).
Please note that all times are shown in the time zone of the conference. The current conference time is: 26th Nov 2022, 02:40:30pm CET
Session
Poster - 02 Drug design: Drug design
Time:
Sunday, 15/Aug/2021:
5:10pm - 6:10pm
Session Chair:
Begoña Heras
Session Chair:
Anton V. Zavialov
Presentations
---
Fragment Based Drug Discovery of SARS-CoV-2 Main Protease
University College London, London, United Kingdom
---
Repurposing an ancient protein core structure: structural studies on FmtA, a novel esterase of Staphylococcus aureus
1Department of Biotechnology, IIT Roorkee, Roorkee, India; 2Department of Biology,York University, 4700 Keele Street, Toronto, Canada
---
Studies of LysSi3, a Gram-negative targeting endolysin with broad bactericidal activity.
1Laboratory of Structural Chemistry, Institute of Chemistry, Faculty of Science, University of South Bohemia in České Budějovice, Czech Republic; 2N.F. Gamaleya National Research Centre for Epidemiology and Microbiology, Ministry of Health of the Russian Federation, 123098 Moscow, Russia.
---
Structural insight into the degradation selectivity of C2H2 zinc finger by thalidomide metabolite
1Graduate School of Agricultural and Life Sciences, The University of Tokyo; 2Proteo-Science Center, Ehime University; 3Life Science and Applied Chemistry, Graduate School of Engineering, Nagoya Institute of Technology
---
Structure determination of the motor domain of centromere associated protein E
1Faculty of Pharmaceutical Sciences, Tokyo University of Science; 2Center for Drug Discovery, Graduate School of Pharmaceutical Sciences, University of Shizuoka
---
Structural studies towards the development of an oral main protease (Mpro) inhibitor to treat SARS-CoV-2 infection
1Department of Biochemistry, University of Alberta, Edmonton, Canada; 2Li Ka Shing Institute of Virology, University of Alberta, Edmonton, Alberta, Canada; 3Li Ka Shing Applied Virology Institute, University of Alberta, Edmonton, Alberta, Canada,