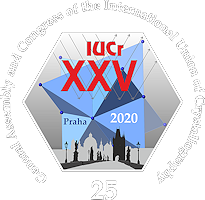 August 14 - 22, 2021 | Prague, Czech Republic
Conference Agenda
Overview and details of the sessions of this conference. Please select a date or location to show only sessions at that day or location. Please select a single session for detailed view (with abstracts and downloads if available).
Please note that all times are shown in the time zone of the conference. The current conference time is: 6th Dec 2022, 02:54:34am CET
Session
Poster - 10: Solution scattering
Time:
Monday, 16/Aug/2021:
5:10pm - 6:10pm
Session Chair:
Frank Gabel
Session Chair:
Masaaki Sugiyama
Presentations
---
AUC-SAS: Integrated analysis of biomacromolecular structure with analytical ultracentrifugation (AUC) and small-angle scattering (SAS)
Kyoto University, Osaka, Japan
---
Establishment of basic techniques related to protein sample preparation for neutron scattering
Kyoto University, Osaka, Japan
---
Subunit dynamics in alpha-crystallin through deuteration-assisted small-angle neutron scattering
1Kyoto University, Osaka, Japan; 2Australian Nuclear Science and Technology Organization
---
Dynamics of multi-domain protein ER-60 revealed by small angle X-ray scattering data and molecular dynamics simulations
Kyoto University, Osaka, Japan
---
Stoichiometric unfolding of bovine serum albumin by surfactant, as revealed from HPLC/SAXS with online observation of UV-Vis absorption and refractive index.
1National Synchrotron Radiation Research Center, Hsinchu, Taiwan; 2Department of Chemical Engineering, National Tsing Hua University, Hsinchu 30013, Taiwan
---
Sterol-crystallin interaction mediated by membranes
1Department of Physics, National Central University, Jhongli, Taiwan; 2National Synchrotron Radiation Research Center, 101 Hsin-Ann Road, Hsinchu Science Park, Hsinchu, Taiwan
---
Study of protein-protein interactions of human E3 ubiquitin ligase NEDD4-2 using fluorescence spectroscopy
1Department of Structural Biology of Signaling Proteins, Division BIOCEV, Institute of Physiology of the Czech Academy of Sciences, 252 50 Vestec, Czech Republic; 2Department of Physical and Macromolecular Chemistry, Faculty of Science, Charles University, 12843 Prague, Czech Republic.
---
Determining the role of TIR domain of Interleukin-1 receptor 8 (SIGIRR) in regulating TLR4 signalling
1University of Queensland, Brisbane, QLD 4072, Australia; 2Institute for Glycomics, Griffith University, Southport, QLD 4222, Australia; 3Institute of Molecular Bioscience, University of Queensland, Brisbane, QLD 4072, Australia
---
Forbidden reflections induced by unit-cell elastic distortions in paratellurite crystals
1FSRC "Crystallography and photonics" RАS, Moscow, Russia; 2NRC "Kurchatov Institute", Moscow, Russia; 3Lomonosov Moscow State University, Moscow, Russia; 4DESY, Hamburg, Germany; 5Freiberg University of Mining and Technology, Freiberg, Germany
---
A New Biological Small- and Wide-Angle X-ray Scattering Beamline Featured in High Flux, USAXS, and Microbeam at Taiwan Photon Source
1National Synchrotron Radiation Research Center, Hsinchu, Taiwan; 2Institute of biochemical sciences & Institute of biological chemistry, Academia Sinica , Taiwan; 3Department of Chemical Engineering, National Tsing Hua University, Taiwan
---
Employing high-end X-ray technologies for laboratory structural biology in Centre of Molecular Structure
1Institute of Biotechnlogy, CAS, Vestec u Prahy, Czech Republic; 2Anton Paar GmbH, Anton-Paar-Strasse 20, Graz
---
Aggregation Forms of Type I Collagen Studied by Simultaneous Small- and Wide-Angle X-ray Scattering
1National Synchrotron Radiation Research Center, Hsinchu, Taiwan; 2Department of Chemical Engineering, National Tsing Hua University, Hsinchu, Taiwan