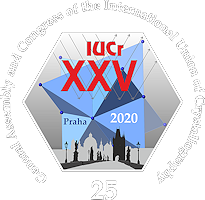 August 14 - 22, 2021 | Prague, Czech Republic
Conference Agenda
Overview and details of the sessions of this conference. Please select a date or location to show only sessions at that day or location. Please select a single session for detailed view (with abstracts and downloads if available).
Please note that all times are shown in the time zone of the conference. The current conference time is: 6th Dec 2022, 01:10:51am CET
Session
Poster - 03 Structure prediction: Crystal structure prediction
Time:
Sunday, 15/Aug/2021:
5:10pm - 6:10pm
Session Chair:
Qiang Zhu
Presentations
---
Machine Learning on Experimental Crystal Structures to parametrize Models of the Gibbs Energy in Computational Crystallography
1CRS4, Pula, Italy; 2FlexCryst, Uttenreuth, Germany
---
Predicting the packing behaviour of porous organic cages
Department of Chemistry, Imperial College London, Molecular Sciences Research Hub, White City Campus, London, W12 0BZ, UK
---
Come for the drug, stay for the solvent!
The Cambridge Crystallographic Data Centre, 12 Union Road, Cambridge, CB1 2EZ, UK
---
Structural characterization of Cu-tpy-nucleotide ternary complexes
Indian Institute of Science, Bengaluru, India
---
CSP: Paracetamol via Grid Search & PSO
FSNPE,Czech Technical University in Prague, Prague, Czech Republic