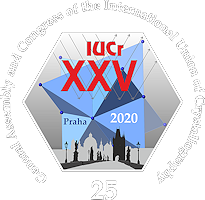 August 14 - 22, 2021 | Prague, Czech Republic
Conference Agenda
Overview and details of the sessions of this conference. Please select a date or location to show only sessions at that day or location. Please select a single session for detailed view (with abstracts and downloads if available).
Please note that all times are shown in the time zone of the conference. The current conference time is: 6th Dec 2022, 01:26:45am CET
Session
Poster - 01 Bioinformatics: Structural bioinformatics
Time:
Sunday, 15/Aug/2021:
5:10pm - 6:10pm
Session Chair:
Jiri Cerny
Session Chair:
Bohdan Schneider
Session Chair:
Janusz Marek Bujnicki
Presentations
---
Exploiting new generation ab initio and homology models from databases for MR
1Institute of Integrative Biology, University of Liverpool, Liverpool L69 7ZB, England; 2STFC, Rutherford Appleton Laboratory, Research Complex at Harwell, Didcot OX11 0FA, England
---
The analysis of CH-π interaction in protein–carbohydrate binding
1Central European Institute of Technology, Masaryk University, Kamenice 5, 625 00 Brno, Czech Republic; 2National Centre for Biomolecular Research, Masaryk University, Kamenice 5, 625 00 Brno, Czech Republic; 3Institute of Chemistry, Slovak Academy of Sciences, Dubravska cesta 9, 845 38 Bratislava, Slovak Republic; 4Department of Biochemistry, Faculty of Science, Masaryk University, Kotlarska 2, 611 37 Brno, Czech Republic
---
On the role of CO…CO interactions in the classification of beta-turns.
University of Salerno, Fisciano, Italy
---
Structural Characterization of missense mutation identified in BRCA2 using Comparative Biophysical and Dynamics Studies
1Advanced Centre for Treatment Research and Education in Cancer, Kharghar, Navi Mumbai, India; 2Homi Bhabha National Institute, Mumbai, India; 3Alberta RNA Research and Training Institute, Department of Chemistry and Biochemistry, University of Lethbridge, 4401 University Drive, Lethbridge, AB T1K 3M4, Canada
---
De novo detection of symmetry in cryo-EM density maps
1Czech Academy of Sciences, Prague, Czech Republic; 2MRC Laboratory of Molecular Biology
---
PISACov: Expanding jsPISA with evolutionary covariance data to better determine protein quaternary state from a crystal structure
1ISMIB, University of Liverpool, Liverpool, United Kingdom; 2UKRI-STFC, Rutherford Appleton Laboratory, Didcot, United Kingdom
---
PDBe-KB: a community-driven resource for structural and functional annotations
EMBL-EBI, Hinxton, United Kingdom
---
EvoDock: Optimization of protein-ligand binding interfaces
1University of Hamburg; 2Bielefeld University
---
Effects of mutations in the NMDA receptor GluN1 subunit on binding and dynamics: a computational approach
1Sydney Pharmacy School, Faculty of Medicine and Health, The University of Sydney, NSW 2006, Australia; 2Brain and Mind Centre, The University of Sydney, Camperdown, NSW 2050, Australia; 3Australian Nuclear Science and Technology Organisation, New Illawarra Road, Lucas Heights, NSW 2234, Australia
---
Base pairs and their higher order structures
Biological and Chemical Research Centre, Department of Chemistry, University of Warsaw, Poland
---
The rotag library: generating protein structure-specific side-chain rotamer libraries
Vilnius University Life Sciences Center, Saulėtekio al. 7, 10257 Vilnius, Lithuania
---
Patterson positivity combined with statistical matching can estimate unobserved intensities
University of Copenhagen, Copenhagen, Denmark
---
How the point mutation of NPC1 can affect the cholesterol transport efficiency : Molecular dynamics study
1Seoul National University, Seoul, Korea, Republic of (South Korea); 2Sejong University, Seoul, Korea, Republic of (South Korea)
---
Modeling large protein structures as graphs for automated analysis of their topology
Molecular Bioinformatics, Goethe-University, Frankfurt am Main, Germany
---
Investigation of Furin inhibition to block SARS-CoV-2 spike protein cleavage and Structural stability via molecular docking and molecular dynamics simulations
Laboratory of Biocystallography and Computational Molecular Biology, Department of Physics, Periyar University, Salem-636 011, India.
---
The first hydration layer around biomolecules is site-specific
Institute of Biotechnology, Vestec near Prague, Czech Republic
---
Probing Protein Structures in Solution by Molecular Dynamics Simulation and Small-Angle X-ray Scattering
1Department of Chemistry, Fu Jen Catholic University, Xinzhuang 24205, Taiwan; 2National Deuteration Facility, Australian Nuclear Science and Technology Organisation, Lucas Heights, NSW 2234, Australia; 3National Synchrotron Radiation Research Center, Hsinchu Science Park, Hsinchu 30076, Taiwan; 4Department of Chemical Engineering, National Tsing Hua University, Hsinchu 30013, Taiwan; 5Department of Chemistry, National Taiwan University, Taipei City 10617, Taiwan