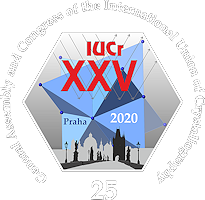 August 14 - 22, 2021 | Prague, Czech Republic
Conference Agenda
Overview and details of the sessions of this conference. Please select a date or location to show only sessions at that day or location. Please select a single session for detailed view (with abstracts and downloads if available).
Please note that all times are shown in the time zone of the conference. The current conference time is: 26th Nov 2022, 02:29:46pm CET
Session
Poster - 27 Magnetism: Magnetic structures, magnetic materials
Time:
Wednesday, 18/Aug/2021:
5:10pm - 6:10pm
Presentations
---
INVESTIGATION OF THE VIABILITY OF STRUCTURAL INFORMATIONDETERMINED WITH X-RAY DIFFRACTION EMPLOYED TO DETERMINEANISOTROPIC MAGNETIC SUSCEPTIBILITY
Aarhus University, Aarhus, Denmark
---
The magnetic materials beamlines at Diamond Light Source
Diamond Light Source Ltd, Didcot, United Kingdom
---
Symmetry breaking and Optical property of high-temperature superconductor Bi2Sr2CaCu2O8+δ
1Department of Advanced Science and Engineering, Waseda University, Tokyo, Japan; 2Department of Mathematics, Shanghai University, Shanghai, China; 3Kanagawa Institute of Industrial Science and Technology (KISTEC), Ebina, Japan; 4Department of Applied Physics and Physico-Informatics, Keio University, Yokohama, Japan; 5Department of Biophysics, Kyoto University, Kyoto, Japan; 6Waseda Research Institute for Science and Engineering, Waseda University, Tokyo, Japan; 7Global Consolidated Research Institute for Science Wisdom, Waseda University, Tokyo, Japan
---
Magnetic Structures of RNiSi3 (R = Gd, Tb and Ho)
1quot;Gleb Wataghin" Institute of Physics, Campinas, Brazil; 2CCNH, Universidade Federal do ABC (UFABC); 3Brazilian Synchrotron Light Laboratory (LNLS), Brazilian Center for Research in Energy and Materials (CNPEM)
---
Non-collinear magnetic order coupled with magnetic glassy behaviour and enhancement of magnetocaloric effect under high pressure
1UGC-DAE Consortium for Scientific Research, Mumbai Centre, BARC Campus, Mumbai 400085, INDIA; 2UGC-DAE Consortium for Scientific Research, University Campus, Khandwa Road, Indore- 452001, INDIA
---
Magnetic properties and magnetic structure of the quasi one-dimensional antiferromagnet Cu2(MoO4)(SeO3)
1IMRAM, Tohoku University, Sendai, Japan; 2Neutron Scattering Division, Oak Ridge National Laboratory, USA
---
Hyperfine interactions of 57Fe nuclei in a weak ferromagnet FeBO3
1Shubnikov Institute of Crystallography of Federal Scientific Research Centre "Crystallography and Photonics" of Russian Academy of Sciences, Moscow, Russian Federation; 2Valiev Institute of Physics and Technology RAS, Moscow, Russia; 3Physics and Technology Institute, V.I. Vernadsky Crimean Federal University, Simferopol, Russia
---
Synthesis and characterization of mullite-type NdMnTiO5: structural, spectroscopic, thermogravimetric and magnetic properties analyses
1University of Bremen, Institute of Inorganic Chemistry and Crystallography, Leobener Straße 7, D-28359 Bremen, Germany; 2University of Bremen, Faculty of Geosciences, D-28359 Bremen, Germany; 3MAPEX Center for Materials and Processes, Bibliothekstraße 1, Universität Bremen, D-28359 Bremen, Germany
---
Rare-earth dodecaborides: still cubic or not?
1FSRC "Crystallography and Photonics" RAS, Moscow, Russian Federation; 2Institute for Problems of Materials Science, NASU, Kyiv, Ukraine; 3Prokhorov General Physics Institute, RAS, Moscow, Russian Federation
---
Frustrated magnets with chemically tailorable interactions
1School of Chemistry, University of St Andrews, St Andrews, United Kingdom; 2School of Physics and Astronomy, University of St Andrews, St Andrews, United Kingdom; 3ISIS Neutron and Muon Source, STFC RAL, Didcot, UK
---
One-dimensional coordination polymers based on cobalt(II) and nickel(II)
1Andres Bello, Departamento de Ciencias Químicas, Santiago, Chile; 2Centro para el Desarrollo de la Nanociencia y Nanotecnología, CEDENNA, Santiago, Chile; 3Departamento de Ciencia de los Materiales, Universidad de Santiago de Chile, Santiago, Chile
---
Structural and magnetic investigations of post-perovskite thiocyanate frameworks
1School of Chemistry, University of Nottingham, University Park, Nottingham, NG7 2RD, UK; 2Institut Laue-Langevin, 71 Avenue des Martyrs, CS 20156, 38042 Grenoble Cedex 9, FRANCE
---
Magnetic aspects and assemblies of solvent-mediated layered manganese dicarboxylate based coordination polymers
1Indian Institute of Technology Delhi, Delhi, India; 2Jawaharlal Nehru Centre for Advanced Scientific Research, Bengaluru, India
---
Crystal structure and magnetism in Nd1-xSrxFeO3 (0.1≦x≦0.9)
1Nuclear Physics Institute, v.v.i., CAS, Řež, Czech Republic; 2Yokohama National University, Japan
---
Intermetallic compounds containing f-elements: synthesis of some of the compounds from the system R2TGe6 (R=Dy, Er; T=Ni, Cu, Pd)
1Academy of Sciences of the Czech Republic, Prague, Czech Republic; 2Faculty of Mathematics and Physics, Charles University, Prague, Czech Republic; 3Instituto Superior Técnico, Universidade de Lisboa, Portugal