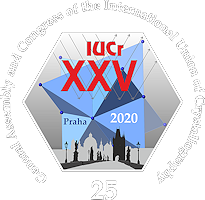 August 14 - 22, 2021 | Prague, Czech Republic
Conference Agenda
Overview and details of the sessions of this conference. Please select a date or location to show only sessions at that day or location. Please select a single session for detailed view (with abstracts and downloads if available).
Please note that all times are shown in the time zone of the conference. The current conference time is: 26th Nov 2022, 12:26:44pm CET
Session
MS-93: Non-covalent interactions in crystal engineering I
Time:

Saturday, 21/Aug/2021:

10:20am - 12:45pm


Session Chair: Giuseppe Resnati
Session Chair: Petra Bombicz

Location: Terrace 2B



100 2nd floor
Invited: Deepak Chopra (India), Karah Knope (USA)
Presentations
10:20am - 10:25am
Introduction to session
---
10:25am - 10:55am
Understanding s- and π-hole centered interactions in crystals from electron density analysis
IISER Bhopal, Bhopal, India
---
10:55am - 11:25am
Harnessing non-covalent interactions towards the isolation of novel actinide structural units
Georgetown University, Washington, United States of America
---
11:25am - 11:45am
Stacking interactions of chelate rings of transition metal complexes
University of Belgrade - Faculty of Chemistry, Belgrade, Serbia
---
11:45am - 12:05pm
Activating chalcogen bonding in alkylseleno/alkyltelluro acetylenes: Helical arrangements and crystal engineering strategies
1Univ Rennes, CNRS, ISCR (Institut des Sciences Chimiques de Rennes) UMR 6226, 35042 Rennes; 2Laboratoire CRM2, UMR CNRS 7036, Institut Jean Barriol, Université de Lorraine, BP 70239, 54506 Vandœuvre-lès-Nancy
---
12:05pm - 12:25pm
Hydrogen bond architecture in a series of allylamine and normal alcohols (C1-C10) cocrystals.
1University of Warsaw, Warsaw, Poland; 2Warsaw University of Technology, Warsaw. Poland
---
12:25pm - 12:45pm
Expanding the crystal form landscape: emerging computational tools for the discovery of eutectic composites and higher-order cocrystals of organic compounds
1Khalifa University of Science and Technology, Abu Dhabi, United Arab Emirates; 2New York University Abu Dhabi, Abu Dhabi, United Arab Emirates