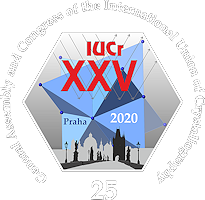 August 14 - 22, 2021 | Prague, Czech Republic
Conference Agenda
Overview and details of the sessions of this conference. Please select a date or location to show only sessions at that day or location. Please select a single session for detailed view (with abstracts and downloads if available).
Please note that all times are shown in the time zone of the conference. The current conference time is: 6th Dec 2022, 12:46:28am CET
Session
Poster - 53 Phase transitions: Structure and phase transitions in advanced materials
Time:
Saturday, 21/Aug/2021:
5:10pm - 6:10pm
Session Chair:
Alexandra Gibbs
Session Chair:
Yuichi Shimakawa
Presentations
---
Substitutional doping of trirutiline transition metal antimonates, MSb2O6
1School of Chemical Sciences, University of Auckland, 23 Symonds Street, Auckland 1010, New Zealand; 2Macdiarmid Institute for Advanced Materials and Nanotechnology, Victoria University of Wellington, Wellington 6140, New Zealand; 3Australian Centre for Neutron Scattering, Australian Nuclear Science and Technology Organisation, New Illawarra Road, Lucas Heights, NSW 2234, Australia
---
Tuning Expansion and Phase Transition Behavior in the Scandium Tungstate Family
The University of Toledo, Toledo, United States of America
---
Phase transition in CePt2Al2
1Charles University, Faculty of Mathematics and Physics, Department of Condensed Matter Physics, Prague, Czech Republic; 2CNRS, University Bordeaux, ICMCB, Pessac, France; 3Czech Academy of Sciences, Institute of Plasma Physics, Prague, Czech Republic; 4Charles University, Faculty of Mathematics and Physics, Department of Physics of Materials, Prague, Czech Republic
---
Short-range charge density wave order in La1.88Sr0.12CuO4 under uniaxial pressure
1Physik Institut, University of Zurich, Winterthurerstrasse 190, CH-8057 Zurich, Switzerland; 2Department of Physics, Technical University of Denmark, DK-2800 Kongens Lyngby, Denmark; 3Diamond Light Source, Harwell Science & Innovation Campus Didcot Oxfordshire OX11 0DE,United Kingdom; 4Deutsches Elektronen-Synchrotron DESY, Notkestraße 85, 22607 Hamburg, Germany; 5Department of Physics, Hokkaido University – Sapporo 060-0810, Japan; 6Department of Applied Sciences, Muroran Institute of Technology, Muroran 050-8585, Japan
---
Atomic mechanisms for the formation of charge-density waves in 3-dimensional electronic crystals
1Laboratory of Crystallography, University of Bayreuth, Bayreuth, Germany; 2Department of Condensed Matter Physics and Materials Science, Tata Institute of Fundamental Research, Mumbai, India
---
Revisiting phase transitions in Ca-modified lead titanate ceramics using synchrotron XRD
1Brazilian Synchrotron Light Laboratory, Campinas, Brazil; 2"Gleb Wataghin" Institute of Physics, State University of Campinas, Brazil; 3Physics Department, Federal University of São Carlos, São Carlos, Brazil.
---
Temperature and time-resolved XANES studies of novel valence tautomeric cobalt complex
1The Smart Materials Research Institute, Southern Federal Universuty, Rostov-on-Don, Russian Federation; 2G. A. Razuvaev Institute of Organometallic Chemistry, Russian Academy of Sciences, Nizhny Novgorod, Russian Federation
---
Structural peculiarities of bismuth-containing RFe3(BO3)4 (R = Ho, Y, Sm, Nd)
1FSRC «Crystallography and Photonics» RAS, Leninskiy Prospekt 59, Moscow, 119333 Russia; 2Kirensky Institute of Physics of the Siberian Branch of the RAS, Akademgorodok 50, Krasnoyarsk, 660036 Russia
---
Modeling of lattice thermal expansion close to phase transitions: a DEA model extension.
University of Bremen, Institute of Inorganic Chemistry and Crystallography, Leobener Strasse 7, D-28359 Bremen, Germany
---
Preferences of Chirality and Polarity in Triglycine sulfate Crystals
1School of Advance Science and Engineering, Waseda University, Tokyo, Japan; 2Faculty of Engineering, University of Toyama, Toyama, Japan; 3Research Center for Ubiquitous MEMS and Micro Engineering, National Institute of Advanced Industrial Science and Technology (AIST), Ibaraki, Japan; 4Department of Applied Chemistry, School of Engineering, The University of Tokyo, Tokyo, Japan; 5Graduate School of Advance Science and Engineering, Waseda University, Tokyo, Japan; 6Faculty of Science and Engineering, Waseda University, Tokyo, Japan; 7Research Organization for Nano & Life Innovation, Waseda University, Tokyo, Japan
---
Crystallography of silicon element: stable and metastable crystalline forms
IMPMC - Sorbonne University, Paris, France
---
Crystal Structure of Protic Ionic Liquids and their hydrates
1School of Science, RMIT University, Melbourne, Victoria 3000, Australia; 2Australian Nuclear Science and Technology Organisation, Australian Synchrotron, Victoria, 3168, Australia
---
Negative linear, in-plane zero and phase-transition-induced negative volume expansion in cranswickite-type MgSO4·4D2O
1Camborne School of Mines and Environment and Sustainability Institute, Tremough Campus, University of Exeter, Penryn TR10 9EZ, UK; 2Diamond Light Source, Harwell Science and Innovation Campus, Fermi Avenue, Didcot OX11 0DE, UK; 3ISIS Neutron and Muon Source, STFC Rutherford Appleton Laboratory, Harwell Science and Innovation Campus, Chilton, Didcot, Oxfordshire, OX11 0QX, UK
---
Two stages in one step spin crossover in [Fe(bbtr)3](CF3SO3)2
1Institute of Physics, University of Silesia, 75 Pułku Piechoty 1, 41 – 500 Chorzów, Poland; 2Faculty of Chemistry, University of Wrocław, F. Joliot – Curie 14, 50 – 383 Wrocław, Poland
---
Nitrile orientation versus crystal lattice as a tool for tuning the spin crossover properties in the one-dimensional coordination polymers [Fe(ebtz)2(RCN)2](BF4)2 (RCN = nitrile)
1Institute of Physics, University of Silesia, 75 Pułku Piechoty 1, 41 – 500 Chorzów, Poland; 2Faculty of Chemistry, University of Wrocław, F. Joliot – Curie 14, 50 – 383 Wrocław, Poland
---
Operando PXRD and PDF Investigations of Disordering in NaCrO2-CrO2
University of Southern Denmark, Odense C, Denmark
---
Electrochemically driven phase transitions in crystallographically challenged electrode materials for rechargeable batteries
University of Southern Denmark, Campusvej 55, 5230 Odense M, Denmark
---
Crystal Structures and Phase Transitions of the Methylammonium Tin Halide Perovskites
1Faculty of Pure and Applied Sciences, University of Tsukuba, Tsukuba, 305-8573, Japan; 2Materials Sciences Research Center, Japan Atomic Energy Agency, Tokai, Ibaraki, 319-1195, Japan; 3Institute of Materials Structure Science, High Energy Accelerator Research Organization, Tokai, Ibaraki, 319-0016, Japan; 4J-PARC Center, Japan Atomic Energy Agency, Tokai, Ibaraki 319-1195, Japan; 5Institute of Multidisciplinary Research for Advanced Materials, Tohoku University, Sendai 980-8577, Japan
---
Synthesis, crystal structure and catalytic activity of a new organic-inorganic hybrid cobalt phosphite
1Engineering Laboratory of Organometallic, Molecular Materials and Environment (LIMOME) University Sidi Mohamed Ben Abdellah,; 2Engineering Laboratory of Organometallic, Molecular Materials and Environment (LIMOME) University Sidi Mohamed Ben Abdellah,; 3Engineering Laboratory of Organometallic, Molecular Materials and Environment (LIMOME) University Sidi Mohamed Ben Abdellah,; 4Engineering Laboratory of Organometallic, Molecular Materials and Environment (LIMOME) University Sidi Mohamed Ben Abdellah,; 5Independent scientist, Oujda, Morocco; ORCID: 0000-0001-6926-6286.; 6Engineering Laboratory of Organometallic, Molecular Materials and Environment (LIMOME) University Sidi Mohamed Ben Abdellah,
---
Crystallographic studies of the spin state transition of three Fe(II) metallogrids: thermal vs ultra-fast photoswitching
1Photon Science - Structural Dynamics in Chemical Systems, Deutsches Elektronen-Synchrotron DESY, Hamburg, 22607, Germany; 2Institut für Anorganische Chemie, Georg-August-Universität Göttingen, Göttingen, 37077, Germany; 3Center for Advanced Radiation Sources, The University of Chicago, Argonne National Laboratory, Lemont, Illinois, 90439, USA; 4Institut für Röntgenphysik, Georg-August-Universität Göttingen, Göttingen, 37077, Germany
---
Phase Transformations in Ti-Nb-Zr-Ta-O Beta Titanium Alloys with High Oxygen and Reduced Nb and Ta Content
1Charles University, Faculty of Matehematics and Physics, Prague 2, Czech Republic; 2Institute of Thermomechanics, Academy of Sciences, Prague 8, Czech Republic
---
Crystallization and nucleation study of transition metal struvite and related compounds
BAM Berlin (Bundesanstalt für Materialforschung und -prüfung), Berlin, Germany
---
α phase lamellae orientation relationship in metastable β titanium alloys
1Department of Physics of Materials, Charles University, Praha 2, Czech Republic; 2Department of Condensed Matter Physics, Charles University, Praha 2, Czech Republic