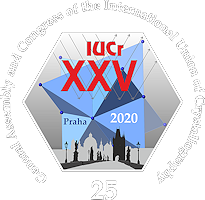 August 14 - 22, 2021 | Prague, Czech Republic
Conference Agenda
Overview and details of the sessions of this conference. Please select a date or location to show only sessions at that day or location. Please select a single session for detailed view (with abstracts and downloads if available).
Please note that all times are shown in the time zone of the conference. The current conference time is: 6th Dec 2022, 01:07:05am CET
Session
Poster - 28 Porous: Porous materials
Time:
Wednesday, 18/Aug/2021:
5:10pm - 6:10pm
Session Chair:
Karena Chapman
Session Chair:
Fernando Uribe-Romo
Presentations
---
Low-dose imaging of metal-organic frameworks and study of their electron-beam stability
1Institut des matériaux poreux de Paris, Ecole normale supérieure, ESPCI, CNRS, PSL University, Paris, France; 2Center for Nanoscience and Nanotechnology, C2N UMR 9001, CNRS, Université Paris Sud, Université Paris Saclay, Palaiseau, France
---
Biophysical and preliminary crystallographic studies of Lectin from Entada rheedii seeds
Vellore Institute of Technology (VIT), Vellore, India
---
Ternary coordination compounds of copper with amino acids and 1,10-phenanthroline –structural insight and biological activity
Faculty of Science, University of Zagreb, Zagreb, Croatia
---
Use of alkylarsonium cations as probe molecules for the study of zeolites
1Instituto de Tecnología Química (UPV-CSIC) Universitat Politècnica de València-Consejo Superior de Investigaciones Científicas, Valencia, SPAIN; 2LRC, Institute of Chemistry, Universidade Federal do Rio Grande do Sul, Porto Alegre, BRAZIL; 3ALBA Synchrotron Light Facility, Cerdanyola del Vallés, Barcelona, SPAIN; 4Instituto de Ciencia Molecular (ICMol), Universitat de València, Paterna, SPAIN
---
Adsorption of perfluorooctanoic acid (PFOA) and perfluorooctane sulfonate (PFOS) emerging contaminants on Y and silver-Y exchanged zeolites using thermal analysis and X-ray diffraction facilities.
Department of Physics and Earth Sciences, University of Ferrara, Via Saragat 1, I-44121, Ferrara, Italy
---
Application of the Crystalline Sponge Method for Structure Determination of Persistent Organic Pollutants of Agrochemical Degradation Products
1Rigaku Corporation, Tokyo, Japan; 2National Agriculture and Food Research Organization, Ibaraki, Japan; 33Sigma-Aldrich Japan, Tokyo, Japan
---
Breathing Mixed-ligand MOFs – solvent exchange and sorption studies
University of Cape Town, Rondebosch, South Africa