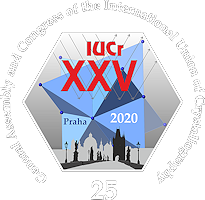 August 14 - 22, 2021 | Prague, Czech Republic
Conference Agenda
Overview and details of the sessions of this conference. Please select a date or location to show only sessions at that day or location. Please select a single session for detailed view (with abstracts and downloads if available).
Please note that all times are shown in the time zone of the conference. The current conference time is: 26th Nov 2022, 02:07:14pm CET
Session
Poster - 20 Polymorphism: Polymorphism
Time:
Tuesday, 17/Aug/2021:
4:40pm - 5:40pm
Session Chair:
Doris E. Braun
Session Chair:
Kenneth D. M. Harris
Presentations
---
Importance of Polymorphism in Improving the Potency of Bioactive Molecules
Shiv Nadar University, Greater Noida, India
---
Tunable temperature of reversible phase transitions in a series of heterometallic carboxylate complexes with CaZn2-backbone
IGIC RAS, Moscow, Russian Federation
---
Structural analysis, Ferroelectric and dielectric properties of single component organic multifunctional materials
INDIAN INSTITUTE OF SCIENCE, Bangalore, India
---
Stacking differences and similarities between a new and two old lapachol polymorphs
1Cryssmat-Lab, DETEMA, Facultad de Química, Universidad de la República, Av. Gral Flores 2124, Montevideo 11800, Uruguay; 2Universidad Nacional de Asunción, Facultad de Ciencias Exactas y Naturales, Departamento de Biología, Área Química Orgánica de Productos Naturales-LAREV, San Lorenzo Campus-UNA, Paraguay; 3Department of Chemistry, Universidad de los Andes, Cra. 1 N° 18A-12, 111711, Bogotá, Colombia; 4Universidad Nacional de Asunción, Facultad de Ciencias Químicas, San Lorenzo Campus-UNA, Paraguay
---
Synthesis & crystallographic, spectroscopic and computational characterization of O-R substituents effects on the torsional angle of 3,3',4,4' substituted biphenyls
1University of Buenos Aires, CABA, Argentine; 2National Atomic Energy Commission, Argentine
---
A difficult art of crystallizing and characterizing elusive polymorphs of meloxicam
Center of Molecular and Macromolecular Studies, Polish Academy of Sciences, Lodz, Poland
---
The phenomenon of polymorphism within the stereoatomic model of crystal structures
Samara National Research University, Samara, Russian Federation
---
Crystal and molecular structures of small-molecule solids solved with the free-distribution software PSSP and WinPSSP
1Old Dominion University, Williamsburg, United States of America; 2University of Ioannina, Ioannina, Greece
---
Influence of the Lewis basicity hardness of recrystallization solvents on the coordination sphere of the complex [Co(3,5-dinitrobenzoate-O,O')2].
Universidad de los Andes, Bogota, Colombia
---
Determination of the crystal structure of magnesium stearate hydrate using micrometre size single crystals
1Department of Pharmacy, University of Copenhagen, Universitetsparken 2, 2100 København Ø, Denmark; 2MAX IV Laboratory, Lund University, PO Box 118, SE-221 00 Lund, Sweden