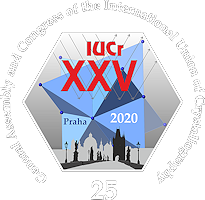 August 14 - 22, 2021 | Prague, Czech Republic
Conference Agenda
Overview and details of the sessions of this conference. Please select a date or location to show only sessions at that day or location. Please select a single session for detailed view (with abstracts and downloads if available).
Please note that all times are shown in the time zone of the conference. The current conference time is: 26th Nov 2022, 02:31:50pm CET
Session
Poster - 14 Instrumentation: Advances in instrumentation
Time:
Monday, 16/Aug/2021:
5:10pm - 6:10pm
Session Chair:
Michele Cianci
Session Chair:
Ehrenfried Zschech
Presentations
---
MicroMAX – new opportunities in macromolecular crystallography
MAX IV Laboratory, Lund University, Lund, Sweden
---
Serial and Macromolecular Crystallography at beamline P11, Petra III
1Photon Science, Deutsches Elektronen-Synchrotron DESY, Hamburg, Germany; 2University of Lübeck, Lübeck, Germany; 3Center for Free-Electron Laser Science, Deutsches Elektronen-Synchrotron DESY, Hamburg, Germany
---
Non-attended data acquisition in the protein lab using the SCOUT sample changer
Bruker AXS GmbH, Karlsruhe, Germany
---
Beamline setup & calibration quality control for synchrotron MX beamlines
Diamond Light Source, Harwell Science and Innovation Campus, Chilton, Didcot, OX11 0DE, UK
---
DanMAX – The new materials science beamline at MAX IV
1Department of Chemistry & iNANO, Aarhus University, Denmark; 2Department of Physics, Technical University of Denmark, Denmark; 3MAX IV Laboratory, Lund University, Sweden
---
Pushing the Limits of Microfocus X-Ray Sealed Tube Sources for Crystallography
1Incoatec GmbH, Geesthacht, Germany; 2Bruker AXS GmbH, Karlsruhe, Germany; 3Bruker AXS LLC, Madison WI, USA
---
Development of high-speed capillary spinner cell for in-situ powder diffraction under gas pressure control
1Japan Synchrotron Radiation Research Institute (JASRI), SPring-8, Sayo, Hyogo, 679-5198, Japan; 2Institute for Integrated Cell-Material Sciences, Kyoto University, Kyoto 606-8501, Japan,; 3Department of Physical Science, Osaka Prefecture University, Sakai, Osaka 599 8531, Japan
---
Applications of X-ray diffraction for microcrystalline sample using the latest single crystal laboratory systems.
Rigaku Corporation, Tokyo, Japan
---
Home-made capillary mounting setup for shaky hands
Institut Galien Paris-Saclay, CNRS UMR 8612, Université Paris-Saclay, 92296 Châtenay-Malabry, France.
---
Handling of radioactive materials prior to analysis by X-ray powder diffraction
Centrum výzkumu Řež s.r.o. (Research Centre Řež), Husinec-Řež, Czech Republic
---
The latest X-ray analysis solutions from Anton Paar
Anton Paar GmbH, Graz, Austria
---
Non-ambient X-ray diffraction – a further dimension in crystallography
Anton Paar GmbH, Graz, Austria
---
X-ray Corelab @HZB: A user lab for multi-purpose materials research
1Helmholtz-Zentrum Berlin, Germany; 2Freie Universität Berlin, Germany
---
MGML - Materials Growth & Measurement Laboratory
1Charles University, Prague, Czech Republic; 2Institute of Physics, CAS, Prague, Czech Republic
---
Core Facility for Crystallographic and Biophysical Research to support the development of medicinal products
University of Warsaw, Biological and Chemical Research Centre, Core Facility for Crystallography and Biophysics, 101 Zwirki i Wigury, 02-089 Warsaw, Poland
---
Rigaku's SmartLab XRD tool: All cutting-edge technologies in one instrument.
Rigaku Europe SE, Neu-Isenburg, Germany