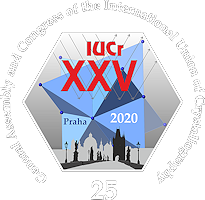 August 14 - 22, 2021 | Prague, Czech Republic
Conference Agenda
Overview and details of the sessions of this conference. Please select a date or location to show only sessions at that day or location. Please select a single session for detailed view (with abstracts and downloads if available).
Please note that all times are shown in the time zone of the conference. The current conference time is: 26th Nov 2022, 01:45:04pm CET
Session
Poster - 50 High Pressure: High Pressure Crystallography
Time:
Saturday, 21/Aug/2021:
5:10pm - 6:10pm
Session Chair:
Przemyslaw Dera
Session Chair:
Jon Henry Eggert
Session Chair:
Lars Ehm
Session Chair:
Vitali Prakapenka
Presentations
---
EIGER2 CdTe detectors for hard X-ray research under extreme conditions
DECTRIS Ltd., 5405 Baden-Daettwil, Switzerland
---
Completeness of data in XRD experiments using Diamond Anvil Cell
Faculty of Chemistry, University of Warsaw, Pasteura 1, 02-093 Warsaw, Poland
---
Pressure dependence of crystal and molecular structure and NLO response of L-Arg homologue salts.
1Institute of Low Temperature and Structure Research, Polish Academy of Sciences, 50-950 Wrocław 2, P.O. Box 1410, Poland; 2Advanced Materials Engineering and Modelling Group, Faculty of Chemistry, Wrocław University of Science and Technology, Wybrzeże Wyspiańskiego 27, 50-370 Wrocław, Poland; 3Faculty of Chemistry, Adam Mickiewicz University, Umultowska 89b, Poznań, 61-614, Poland
---
Reinvestigation of site-disorder in dense ice by in-situ neutron diffraction techniques
1Geochemical Research Center, Graduate School of Science, The University of Tokyo, Hongo 7-3-1, Bunkyo-ku, Tokyo, 113-0033, Japan; 2IMPMC, UMR 7590, Sorbonne Université, Paris, France; 3Institut Laue-Langevin, Grenoble, France; 4Neutron Science and Technology Center, Comprehensive Research Organization for Science and Society, IQBRC Bldg, 162-1 Shirakata, Tokai, Naka, Ibaraki 319-1106, Japan; 5J-PARC Center, Japan Atomic Energy Agency, 2-4 Shirakata, Tokai-mura, Ibaraki 319-1195, Japan; 6Geodynamics Research Center, Ehime University, Matsuyama 790-8577, Japan; 7Institute for Materials Research, Tohoku University, Sendai, Japan
---
Uniaxial pressure in a High-resolution X-ray Diffraction environment
1Brazilian Synchrotron Light Laboratory, Brazilian Center for Research in Energy and Materials, Campinas, SP, 13083-970, Brazil; 2Institute of Physics "Gleb Wataghin", University of Campinas – UNICAMP, 13083-859, Campinas, SP, Brazil
---
In situ XRPD of the synthesis of corundum from boehmite during ball milling.
1Max-Planck-Institut für Kohlenforschung, Heterogeneous Catalysis, Kaiser-Wilhelm-Platz 1, 45470 Mülheim an der Ruhr, Germany; 2Deutsches Elektronen-Synchrotron (DESY), Notkestraße 85, 22607 Hamburg, Germany
---
Polyamorphizationinduced superconductivity in Sb2Se3
Center for High Pressure Science and Technology Advanced Research (HPSTAR), Shanghai, China, People's Republic of
---
New materials development utilizing mechanochemical synthesis
1Hawaii Institute of Geophysics and Planetology, University of Hawaii at Manoa, Honolulu, Hawaii 96822, USA; 2GeoSoiEnviro CARS, Argonne National Laboratory, University of Chicago, Argonne, Illinois 60439, USA
---
Exploring the high pressure bcc alloy phase of topological Insulator PbBi4Te7: synchrotron x-ray diffraction measurement and DFT simulations
1Bhabha Atomic Research Centre India, Mumbai, India; 2Homi Bhabha national institute Mumbai India
---
Researches on pressure induced phase transitions using multiple synchrotron X-ray techniques: From crystalline to non-crystalline samples
1Harbin Institute of Technology, Harbin, China, People's Republic of; 2HPSTAR, Beijing, China, People's Republic of