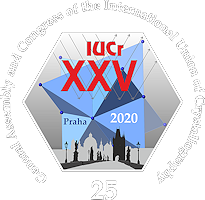 August 14 - 22, 2021 | Prague, Czech Republic
Conference Agenda
Overview and details of the sessions of this conference. Please select a date or location to show only sessions at that day or location. Please select a single session for detailed view (with abstracts and downloads if available).
Please note that all times are shown in the time zone of the conference. The current conference time is: 6th Dec 2022, 02:15:01am CET
Session
Poster - 18 CryoEM: Cryo-EM
Time:
Tuesday, 17/Aug/2021:
4:40pm - 5:40pm
Session Chair:
Jose-Maria Carazo
Session Chair:
Jiri Novacek
Presentations
---
Structural analysis of transcription related complexes and operation of 200kV cryo-EM in KEK
High Energy Accelerator Research Organization (KEK), Ibaraki, Japan
---
SAMase of bacteriophage T3 inactivates E. coli's methionine Sadenosyltransferase by forming hetero-polymers
1Department of Life Sciences, Ben-Gurion University of the Negev, Beer-Sheva, Israel; 2Macromolecular Crystallography and Cryo-EM Research Center, The National Institute for Biotechnology in the Negev, Ben-Gurion University of the Negev, Beer-Sheva, Israel; 33Department of Physics and Astronomy, Clemson University, Clemson, South Carolina, USA
---
Reciprocal space refinement and map calculation for cryo-EM single particle structures
MRC Laboratory of Molecular Biology, Cambridge, United Kingdom
---
Cryo-EM structure of a functional monomeric Photosystem I from Thermosynechococcus elongatus reveals red chlorophyll cluster
1Riken, Sayo, Japan; 2Osaka University, Japan; 3Ruhr Universität Bochum, Germany; 4Kafrelsheikh University, Egypt
---
Structural Comparation of heterotrimer PCNA from Crenarchaeon Aeropyrum pernix by solution scattering, Cryo-EM, and Crystallography
1Grad. Sch. of Life Sci. and Tech., Iryo Sosei Univ.; 2Dept. of Pharm., Fukushima Rosai Hosp.; 3Fac. of Pharm., Iryo Sosei Univ.; 4Grad. Sch. of Sci. and Eng., Iryo Sosei Univ.
---
Structural analysis of a tetradecameric HSP100 chaperone by cryo-EM and SAXS
SungKyunKwan University, Suwon, Korea, Republic of (South Korea)
---
Developments in Advanced Handling, Storage, Transport, and Tracking of Cryo-EM Samples
MiTeGen LLC, Ithaca, United States of America
---
Cryo-electron tomography study of detonation nanodiamonds hydrosols
1National Research Center «Kurchatov Institute», Moscow, Russian Federation; 2Shubnikov Institute of Crystallography of FSRC "Crystallography and Photonics" RAS, Moscow, Russian Federation