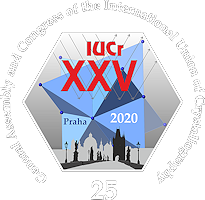 August 14 - 22, 2021 | Prague, Czech Republic
Conference Agenda
Overview and details of the sessions of this conference. Please select a date or location to show only sessions at that day or location. Please select a single session for detailed view (with abstracts and downloads if available).
Please note that all times are shown in the time zone of the conference. The current conference time is: 3rd Dec 2022, 04:17:42am CET
Session
Poster - 25 Electron: Electron crystallography
Time:
Wednesday, 18/Aug/2021:
5:10pm - 6:10pm
Session Chair:
Petr Brazda
Presentations
---
Dynamical refinement of beam sensitive crystals: going below a total dose of 0.1 e-/Ų
Institut Néel, Grenoble, France
---
An electron diffractometer : A novel device for electron crystallography experiments
ELDICO Scientific AG, 5234 Villigen, Switzerland
---
Synergy ED: A new electron diffractometer for microED
1Rigaku Corporation, Haijima, Tokyo, Japan; 2Rigaku Americas Corporation, The Woodlands, Texas, USA; 3Rigaku Polska, Wrocław, Poland; 4JEOL Ltd., Akishima, Tokyo, Japan
---
The ´Why´ and ´How´ of a Dedicated Electron Diffractometer
ELDICO Scientific AG, 5234 Villigen, Switzerland
---
Ab initio structure determination of two new titanium phosphates synthesized via molten salt synthesis.
1Max-Planck-Institut für Kohlenforschung, Heterogeneous Catalysis, Kaiser-Wilhelm-Platz 1 45470 Mülheim, Germany; 2Crystallography/Geosciences, University of Bremen, Klagenfurter Straße 28359 Bremen, Germany; 3MAPEX Center for Materials and Processes, University of Bremen, 28334 Bremen, Germany; 4Deutsches Elektronen-Synchrotron (DESY), Notkestraße 85 22607 Hamburg, Germany
---
Effect of nano-SiC doping on the structure and superconducting properties of Mg (B1-xCx) 2
1Instituto de Nanociencia y Nanotecnología, CNEA-CONICET, Av. Bustillo 9500 Bariloche, Argentina; 2Instituto Balseiro, Universidad Nacional de Cuyo, Av. Bustillo 9500 Bariloche, Argentina; 3Institut für Werkstofftechnik, Universität Kassel, 34125 Kassel, Germany; 4Comisión Nacional de Energía Atómica, Av. Bustillo 9500 Bariloche, Argentina
---
Investigating structure transformations of LaxSr2-xMnO4-δ using in situ 3D electron diffraction in a gas environment
1EMAT, University of Antwerp, Groenenborgerlaan 171, B-2020 Antwerp, Belgium
---
Investigating nanoparticle surface energetics using 4D-STEM
1Monash Centre for Electron Microscopy, Monash University, VIC, 3800, Australia; 2Department of Materials Engineering, Monash University, VIC, 3800, Australia; 3School of Chemistry, Monash University, VIC, 3800, Australia
---
Simulation of electron diffraction patterns of organic crystals under continuous rotation
STFC, London, United Kingdom
---
The perks of a Zeiss Libra 120 plus TEM - First steps towards electron diffraction
1University of Graz, Graz, Austria; 2Stockholm University, Stockholm, Sweden
---
Machine Learning Calculation of Large Angle Convergent Beam Electron Diffraction Patterns
University of Warwick, Coventry, United Kingdom
---
Refinement on electron diffraction data in MoPro: A quest for improved structure model
1University of Warsaw, Warsaw, Poland; 2Université; de Lorraine, CNRS, CRM2, Nancy, France