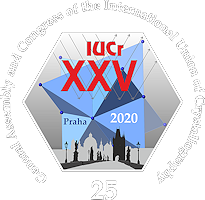 August 14 - 22, 2021 | Prague, Czech Republic
Conference Agenda
Overview and details of the sessions of this conference. Please select a date or location to show only sessions at that day or location. Please select a single session for detailed view (with abstracts and downloads if available).
Please note that all times are shown in the time zone of the conference. The current conference time is: 6th Dec 2022, 12:52:05am CET
Session
Poster - 38 Energy: Materials for energy conversion and storage
Time:
Thursday, 19/Aug/2021:
5:10pm - 6:10pm
Session Chair:
Stefan Adams
Session Chair:
Jean-Marc Joubert
Presentations
---
Hydrogen bonding in hybrid organic-inorganic perovskite materials
Oak Ridge National Laboratory, Oak Ridge, United States of America
---
Combined crystallochemical and quantum-chemical search for new high-valent chalcogen-containing ionic conductors
1Samara Center for Theoretical Materials Science, Samara, Russian Federation; 2Samara Center for Theoretical Materials Science, Samara Polytech, Samara, Russian Federation; 3IEP TUBAF, Freiberg, Germany
---
Cation disorder in zinc-group IV- nitride and oxide nitride semiconductor materials revealed through neutron diffraction
1Helmholtz-Zentrum Berlin fuer Materialien und Energie, Berlin, Germany; 2Freie Universitaet Berlin, Institute of Geological Sciences, Berlin, Germany; 3Universitaet Potsdam, Institute of Chemistry, Potsdam, Germany
---
Crystal structure and Mössbauer studies of gallium iron borate single crystals
1Shubnikov Institute of Crystallography of FSRC "Crystallography and Photonics" RAS, 119333, Moscow, Russia; 2Physics and Technology Institute, V.I. Vernadsky Crimean Federal University, 295007, Simferopol, Russia
---
Model construction of actuation performance of a photo-bending crystal using machine learning-based regression.
1Graduate School of Advanced Science and Engineering, Waseda University, Tokyo, Japan; 2Research Organization for Nano & Life Innovation, Waseda University, Tokyo, Japan; 3Center for Data Science, Waseda University, Tokyo, Japan
---
Expanded chemistry and mixed ionic-electronic conductivity in vanadium-substituted variants of γ-Ba4Nb2O9
1School of Chemistry, The University of Sydney, Sydney, Australia; 2Department of Chemistry, Durham University, Science Site, South Road, Durham DH1 3LE, U.K.; 3Institut Laue Langevin, 71 Rue de Martyrs, 38000 Grenoble, France; 4Australian Nuclear Science and Technology Organisation, Lucas Heights NSW 2234, Australia; 5Australian Synchrotron, Clayton, Victoria, 3168 Australia
---
Environmentally Friendly Rhodium(I) Model Catalysts tailored by various bidentate and monodentate (water-soluble) ligand.
University of The Free State, Pretoria, South Africa
---
Synthesis, characterization of high-temperature properties and evaluation of REBa2Cu3O6+δ (RE = La, Nd and Y) as cathode for Intermediate Temperature Solid Oxide Fuel Cells.
1Facultad de Química, Universidad de la República, Montevideo , Uruguay; 2Departamendo de Química, Universidad de los Andes, Bogotá, Colombia; 3Departamento de Caracterización de Materiales, CAB-INN-CONICET-CNEA, Bariloche, Argentina
---
Lattice disorder and oxygen migration pathways in pyrochlore and defect-fluorite oxides
1School of Chemistry, The University of Sydney, Sydney; 2Australian Nuclear Science and Technology Organisation; 3Neutron Scattering Division, Oak Ridge National Laboratory
---
LiFe2-xInxSbO6 Oxides as Li-ion Cathode Materials
1Inorganic Chemistry Laboratory, University of Oxford, Oxford, United Kingdom; 2Department of Chemical and Biological Engineering, The University of Sheffield, United Kingdom; 3Department of Chemistry, University College London, United Kingdom
---
Enigmatic Structure Property Behaviour in SOFC & SOEC electrolyte materials
University of the Witwatersrand, Johannesburg, South Africa
---
Time resolved structure analysis of vibrating gallium phosphate under alternating electric field
1Department of Information and Basic Science, Nagoya City University, Nagoya 467-8501, Japan; 2Research and Utilization Division, Japan Synchrotron Radiation Research Institute, Sayo, Hyogo 679-5198, Japan; 3Institute for Integrated Cell-Material Sciences (iCeMS), Kyoto University, Yoshida-Ushinomiya-cho, Sakyo-ku, Kyoto 606-8501, Japan; 4Graduate School of Science and Engineering, Saitama University, 255 Shimo-Okubo, Sakura-ku, Saitama, 338-8570, Japan
---
Analysis of multi-layer thin film materials using benchtop XRD and XRF systems
1Thermo Fisher Sceintific, Dreieich, Germany; 2Thermo Fisher Sceintific, Artenay, France; 3Thermo Fisher Sceintific, Dreieich, Germany
---
Exploring the magnetocaloric effect in the Ln(HCO2)(C2O4) family of Metal-Organic Frameworks
1School of Phyisical Sciences, University of Kent, Canterbury, UK; 2ISIS Facility, STFC Rutherford Appleton Laboratory, Didcot, UK
---
Operando SAXS/WAXS studies for structure determination of energy storage materials using a unique electrochemical-scattering cell
1Anton Paar GmbH, Graz, Austria; 2ETH Zürich, Zürich, Switzerland
---
The role of Al3+, Dy3+ co-doping on the structure-property correlations in NASICON-type LiTi2(PO4)3 solid-state electrolytes
1Molecular Sciences Institute, School of Chemistry, University of the Witwatersrand, Johannesburg, South Africa; 2DSI-NRF Centre of Excellence in Strong Materials (CoE-SM)