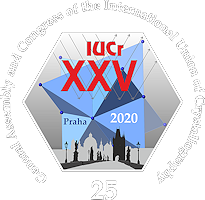 August 14 - 22, 2021 | Prague, Czech Republic
Conference Agenda
Overview and details of the sessions of this conference. Please select a date or location to show only sessions at that day or location. Please select a single session for detailed view (with abstracts and downloads if available).
Please note that all times are shown in the time zone of the conference. The current conference time is: 26th Nov 2022, 02:27:34pm CET
Session
Poster - 30 Nano: Nanomaterials
Time:
Wednesday, 18/Aug/2021:
5:10pm - 6:10pm
Session Chair:
Cinzia Giannini
Session Chair:
Jinong Zhu
Presentations
---
Sc doped TiO2 nanocrystals with core-shell morphology
1Institute of Inorganic Chemistry AS CR, Rez, Czech Republic; 2Nuclear Research Center – Negev, P.O. Box 9001, 84190 Beer-Sheva, Israel; 3Department of Materials Engineering, Ben-Gurion University of the Negev, Beer-Sheva, Israel
---
Combined structural and electrical characterization of zirconia-based thin films for energy applications
1INN-CNEA-CONICET, Av. Bustillo 9500, S. C. de Bariloche, Río Negro, 8400, Argentina; 2Helmholtz-Zentrum Berlin für Materialien und Energie, Albert-Einstein-Str.15, 12489, Berlin, Germany.
---
Understanding the gas sensing mechanism in vanadium doped tin oxides using X-ray diffraction and X-ray photoelectron spectroscopy
CSIR Central Glass and Ceramic Research Institute, KOLKATA, India
---
Grafen/CNT doped polymer based nano composites: RF Shielding properties of the nano composite coated fabric materials.
1Department of Nanotechnology and Nanomedicine,Hacettepe University, Beytepe, Ankara 06800, Turkey; 2Department of Physics Engineering,Hacettepe University, Beytepe, Ankara 06800, Turkey
---
Preparation and Characterization of Pd modified TiO2 nanofiber catalyst for carbon–carbon coupling Heck reaction
1Multimedia University of Kenya, Nairobi, Kenya; 2Kenyatta University, Kenya
---
Impact of Co2+ substitution on microstructural evolution and magnetic properties of zinc ferrite nanoparticles synthesized by precipitation and hydrothermal-joint method
1Departments of Physical and Analytical Chemistry, and Organic and Inorganic Chemistry University of Oviedo-CINN, 33006 Oviedo; 2Chemistry Department, Faculty of Science, Sohag University,82524 Sohag, Egypt
---
High-purity crystalline silicon gels
1University of Oviedo, Oviedo, Spain; 2Instituto de Ciencia y Tecnología del Carbono, INCAR-CSIC, Oviedo, Spain
---
Structure identification of Fe-FexOy core shell nanoparticles and their time stability
1Faculty of Mathematics and Physics, Charles University, Prague, Czech Republic; 2Regional centre of advanced technologies and materials, Olomouc, Czech Republic; 3Faculty of Science, Charles University, Prague, Czech Republic
---
A novel electrolytic method of preparing Nano sized α-Ferric oxide from scrap iron
Jimma University, Ethiopia, Jimma, Ethiopia
---
Impacts of mutual phase interactions on piezoelectric and dielectric properties
National Cheng Kung University, Tainan, Taiwan
---
Growth and stability of SmS-TaS2 nanotubes studied by XAFS and DAFS methods.
1Deutsches Elektronen-Synchrotron DESY, Hamburg, Germany; 2Weizmann Institute of Science, Rehovot, Israel
---
Fast Debye equation calculation on graphics processing units - GPU used for calculation and fitting of nanoparticles real structure
1Charles University, Prague, Czech Republic; 2TU Bergakademie Freiberg, Germany