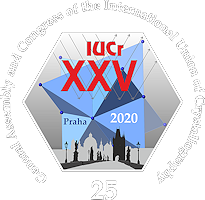 August 14 - 22, 2021 | Prague, Czech Republic
Conference Agenda
Overview and details of the sessions of this conference. Please select a date or location to show only sessions at that day or location. Please select a single session for detailed view (with abstracts and downloads if available).
Please note that all times are shown in the time zone of the conference. The current conference time is: 6th Dec 2022, 01:13:08am CET
Session
Poster - 45 Minerals: Complex structures of minerals and inorganic materials
Time:
Friday, 20/Aug/2021:
5:10pm - 6:10pm
Session Chair:
Marie Colmont
Session Chair:
Sergey V. Krivovichev
Session Chair:
Milan Rieder
Presentations
---
The crystal structure of the new mineral devilliersite, Ca4Ca2Fe3+10O4[(Fe3+10Si2)O36]
1University of Innsbruck, Innsbruck, Austria; 2University of Silesia, Sosnowiec, Poland; 3Ben-Gurion University of the Negev, Beer-Sheva, Israel
---
Formulation of clay refractory bricks: influence of the nature of chamotte and the alumina content in the clay
Université Joseph KI ZERBO, Ouagadougou, Burkina Faso
---
Structural analysis of ilmenite concentrates treated by acid-assisted high energy ball milling
Universidad Industrial de Santander, Bucaramanga, Colombia
---
Investigation of structural phase transitions and superionic property of a Vanthoffite mineral, Na6Co(SO4)4
Indian Institute of Science, Bangalore, India, Bangalore, India
---
Raman, crystallographic and chemical characterization of roméite-group minerals.
1São Carlos Institute of Physics, Av. Trabalhador São-carlense, 400, Pq. Arnold Schimidt – CEP 13566-590, São Carlos-SP - Brazil; 2Institute of Geosciensces, Rua do Lago, 562, Butantã – CEP 05508-080, São Paulo–SP - Brazil
---
Cd4Te5O14, consisting of [Te5O14]-chains, a novel structure element for oxidotellurates(IV)
TU Vienna, Vienna, Austria
---
Water induced variety of arsenic(III) oxide intercalates with alkali chlorides
Warsaw University of Technology, Warszawa, Poland
---
Study of the NdO1.5-TiO2-ZrO2 ternary system of potential matrices for the immobilization of actinide wastes
IGEM, Moscow, Russian Federation
---
Ni2MnGa shape memory alloy studied by x-ray diffraction measured in-situ in tension
1Charles University, Praha, Czech Republic; 2Institute of Physics of Czech Academy of Sciences, Praha, Czech Republic
---
57Fe Mössbauer spectroscopy study of the Fe-bearing, Ge,Ga-rich synthetic tourmalines
1Shubnikov Institute of Crystallography of FSRC "Crystallography and Photonics" RAS, Moscow, Russian Federation; 2D.S. Korzhinskii Institute of Experimental Mineralogy RAS, Chernogolovka, Russian Federation; 3Faculty of Geology, Moscow State University, Moscow, Russian Federation
---
Co-crystal structure of a dinuclear (Zn-Y) and a trinuclear (Zn-Y-Zn) complexes derived from a Schiff base ligand
1Université Cheikh Anta DIOP de Dakar, Dakar, Senegal; 2Instituto de Física de São Carlos, Universidade de São Paulo, CP 369, 13.560-970, São Carlos, SP, Brazil; 3Facultad de Química, General Flores 2124, UdelaR, Montevideo, 11800, Uruguay; 4Department of Chemistry, University of Nouakchott, Nouakchott, 130301, Mauritania
---
Copper(II) and zinc(II) complexes based on azo Schiff base ligand: Synthesis, crystal structure and photoisomerization study
1Moulay Ismail University faculty of Science Meknes, Meknes, Morocco; 2Université d'Angers, France
---
Geopolymers based on some clay from Burkina Faso : preparation and characterization
1University Joseph Ki-Zerbo, Ouagadougou, Burkina Faso; 2Institut of Research in Ceramique (IRCER)
---
Impact of dopant type (Tm, Co, and Mn) and doping method on the local and statistical structure of framework whitlockite-type Ca3(VO4)2 crystals. New crystal-chemical effects.
1MIREA - Russian Technological University, 78 Vernadsky ave., Moscow 119454, Russia; 2Prokhorov General Physics Institute, Russian Academy of Sciences, 38 Vavilova str., Moscow 119991, Russia
---
Understanding the structure-property relationships of lead-free piezoelectric systems
1Oak Ridge National Laboratory; 2Oregon State University; 3University of Calgary
---
New lead- and tellurium-free thermoelectric materials: AgSnm(SbxBi1-x)Sem+2
1Departamento de Química, Facultad de Ciencias, Universidad de Chile, Las Palmeras 3425, Chile; 2Departamento de Química Inorgánica, Facultad de Ciencias Químicas, Universidad Complutense, 28040 Madrid; 3Centro de investigación de estudios avanzados del Maule (CIEAM), Vicerrectoría de Investigación y Postgrado, Universidad Católica del Maule, Avenida San Miguel 3605, Talca 3480112, Chile
---
What are the crystallographic and genetic implications of a naturally occurring polycrystal composed of two mineral phases of distinct symmetries and anionic groups? The case study of "joint-occurrence" of emerald+alexandrite polycrystals from Brazil
1Centro de Microscopia, Universidade Federal de Minas Gerais, Belo Horizonte , Brazil; 2Departamento de Geologia, Universidade Federal de Ouro Preto, Brazil; 3Departamento de Física, Universidade Federal de Minas Gerais, Brazil
---
Effects upon Substitution in Alkali Metal Thallides: How far can X-Ray Structure Determination of Strongly Absorbing Compounds go?
University of Regensburg, Institute of Inorganic Chemistry, Regensburg, Germany
---
Investigation of The Relationship between Groups and Subgroups in C3S's Structure Transition
Materials, Molecular Engineering Environment Laboratory, Moulay Ismail University, Zitoune 11201, Morocco
---
Synthesis and topotactic manipulation of layered oxysulfide CaSrMnO2Cu4-δS3
University of Oxford, Inorganic Chemistry Laboratory, South Parks Rd, Oxford, OX1 3QR, UK
---
Ag, Cu, Hg, Pt, and Te substitutions in the synthetic analogue of palladseite, Pd17Se15: an experimental mineralogical study
Czech Geological Survey, Prague, Czech Republic
---
Charge density in fluorapatite, Ca5(PO4)3F, from X-ray diffraction measurements on mineral and synthetic crystals
1Institute of Geochemistry, Mineralogy and Petrology, Faculty of Geology, University of Warsaw, Żwirki i Wigury 93, Warsaw 02-089, Poland, Section 3.6; 2GeoForschungsZentrum, Telegrafenberg, 14473 Potsdam, Germany; 33Biological and Chemical Research Centre, Department of Chemistry, University of Warsaw, Żwirki i Wigury 101, Warszawa 02-093, Poland
---
Crystal Chemistry, Phase Diagrams, and Thermoelectric Properties of the Ca-M-Co-O (M=Sr, La, Sm, Eu, Gd, and Ho) Systems
1NIST, Gaithersburg, MD United States of America; 2APS, ANL, Argonne, IL United States of America; 3IIT, Chicago, IL United States of America; 4North Central College, Naperville, IL United States of America
---
Crystal chemistry of halide containing silver borates.
1Grebenshchikov Institute of Silicate Chemistry, Saint-Petesrsburg, Russian Federation; 2Department of Chemistry, Lomonosov Moscow State University, Moscow, Russian Federation
---
Imidazole Based Ambiphilic Ligands for Anion Sensing, Metalation and Photophysical Properties
Indian Institute of Technology Kanpur, KANPUR, India
---
Phase structure of metallothermally reduced deep-sea concretion
1FZU - Institute of Physics of the CAS, Praha, Czech Republic; 2Czech Geological survey, Praha, Czech Republic; 3University of Chemistry and Technology in Prague, Praha, Czech Republic
---
Structural Landscape of Lanthanide coordinated Polyoxometalates
Indian Institute of Technology Delhi, Ghaziabad, India