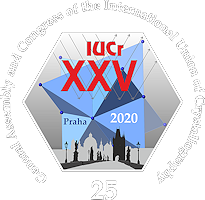 August 14 - 22, 2021 | Prague, Czech Republic
Conference Agenda
Overview and details of the sessions of this conference. Please select a date or location to show only sessions at that day or location. Please select a single session for detailed view (with abstracts and downloads if available).
Please note that all times are shown in the time zone of the conference. The current conference time is: 6th Dec 2022, 02:42:18am CET
Session
School - Electron: Electron Crystallography School
Time:

Wednesday, 11/Aug/2021:

9:00am - 6:30pm


Session Chair: Xiaodong Zou
Session Chair: Louisa Meshi
Session Chair: Lukáš Palatinus

Location: virtual


Session Abstract
School on 3D electron diffraction/MicroED techniques and how to apply them for structure determination of nano/microcrystals too small for X-ray diffraction. The topics will cover inorganic compounds, pharmaceutics and proteins. It includes both lectures and practical sessions.
Presentations
The development of 3D ED on studying structure and charge state of protein microcystals
RIKEN / Tohoku University, Sayo, Japan
---
Unit cell and space group determination from ED and CBED
Ben Gurion University of the Negev, Beer Sheva, Israel