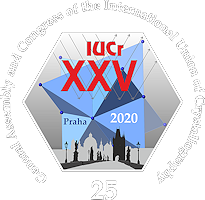 August 14 - 22, 2021 | Prague, Czech Republic
Conference Agenda
Overview and details of the sessions of this conference. Please select a date or location to show only sessions at that day or location. Please select a single session for detailed view (with abstracts and downloads if available).
Please note that all times are shown in the time zone of the conference. The current conference time is: 26th Nov 2022, 02:08:25pm CET
Session
CS-4: Commercial session - MiTeGen: Innovations in Crystallography and CryoEM
Time:

Tuesday, 17/Aug/2021:

1:30pm - 2:00pm


Session Chair: Milan Dopita

Location: Terrace 2A



130 2nd floor
30 min company presentation
Session Abstract
MiTeGen was founded in 2004 with the development of innovative MicroMounts (loops) that are microfabricated out of x-ray transparent material, followed by Reusable Bases (goniometer caps). Since then, the company's work with collaborators and commercial partners has facilitated it's growth to now offer over 3,000 products for X-Ray Crystallography and CryoEM. 
Join us for this brief talk as Sales Manager, Joyce Frank, describes MiTeGen's history and path to providing you with resources and tools to improve workflow and results, coupled with easy access purchasing and customer focused support. 
Included will be a review of MiTeGen's latest innovations, such as Crystallography Sample Supports that change the way you harvest and mount crystals, Watershed™ Humidity Control, NANUQ™ Hyperquenching CryoCooling, and tools for organizing and tracking samples for crystallography and cryo-EM. 
No contributions were assigned to this session.