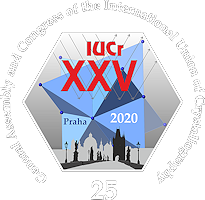 August 14 - 22, 2021 | Prague, Czech Republic
Conference Agenda
Overview and details of the sessions of this conference. Please select a date or location to show only sessions at that day or location. Please select a single session for detailed view (with abstracts and downloads if available).
Please note that all times are shown in the time zone of the conference. The current conference time is: 26th Nov 2022, 01:05:54pm CET
Session
MS-49: Protein design and engineering
Time:

Wednesday, 18/Aug/2021:

2:45pm - 5:10pm


Session Chair: Charlotte Uetrecht
Session Chair: Sheena McGowan

Location: Club A



170 1st floor
Session Abstract
Protein design and engineering offers an exciting opportunity for the development of new biotechnologies, therapeutics, food security measures and basic scientific understanding. The IuCR 2020 microsymposium on protein design and engineering will feature the latest research findings from a diverse range of speakers, providing new information and opportunities for collaboration.
For all abstracts of the session as prepared for Acta Crystallographica see PDF in Introduction, or individual abstracts below.
Presentations
2:45pm - 2:50pm
Introduction to session
---
2:50pm - 3:20pm
Using Ancestral Sequence Reconstruction to Create Robust, Highly Expressed Proteins for Crystallography
1The University of Queensland, Brisbane, Australia; 2University of Michigan, Ann Arbor, MI, Unites States
---
3:20pm - 3:50pm
Protein cage directed nanoparticle superlattices
Aalto University, Espoo, Finland
---
3:50pm - 4:10pm
The bright-side and the dark-side of computational protein stabilization
1Masaryk University, Brno, Czech Republic; 2International Clinical Research Center, St. Anne's University Hospital Brno, Czech Republic
---
4:10pm - 4:30pm
Enzyme engineering by random mutagenesis: structural and functional studies of modified plant-type L-asparaginase (EcAIII)
1Jagiellonian University, Faculty of Chemistry, Krakow, Poland; 2Jagiellonian University, Faculty of Biochemistry, Biophysics and Biotechnology, Krakow, Poland; 3Institute of Bioorganic Chemistry, Polish Academy of Sciences, Poznan, Poland; 4Faculty of Chemistry, A. Mickiewicz University, Poznan, Poland
---
4:30pm - 4:50pm
Computational design of symmetric eight and nine-bladed β-propellers
KU Leuven, Heverlee, Belgium
---
4:50pm - 5:10pm
Structural evidence for the bleaching caused by oxygen in rsCherry
1Biochemistry, Molecular and Structural Biology; Department of Chemistry, KU Leuven, Belgium; 2Chemistry of Biological Processes, Collège de France, Paris, France; 3Laboratory of Molecular Bacteriology, Rega Institute, KU Leuven, Belgium