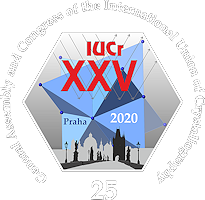 August 14 - 22, 2021 | Prague, Czech Republic
Conference Agenda
Overview and details of the sessions of this conference. Please select a date or location to show only sessions at that day or location. Please select a single session for detailed view (with abstracts and downloads if available).
Please note that all times are shown in the time zone of the conference. The current conference time is: 6th Dec 2022, 01:23:59am CET
Session
MS-1: Structural bioinformatics
Time:

Sunday, 15/Aug/2021:

10:20am - 12:45pm


Session Chair: Janusz Marek Bujnicki
Session Chair: Jiri Cerny

Location: Club B



50 1st floor
Invited:  Zhichao Miao (UK)

Session Abstract
For all abstracts of the session as prepared for Acta Crystallographica see PDF in Introduction, or individual abstracts below.
Presentations
10:20am - 10:25am
Introduction to session
---
10:25am - 10:55am
RNA-Puzzles - the evaluation and automation of RNA 3D structure prediction
1Translational Research Institute of Brain and Brain-Like Intelligence and Department of Anesthesiology, Shanghai Fourth People's Hospital Affiliated to Tongji University School of Medicine, Shanghai 200081, China; 2Newcastle Fibrosis Research Group, Institute of Cellular Medicine, Faculty of Medical Sciences, Newcastle University, Newcastle upon Tyne, UK; 3European Molecular Biology Laboratory, European Bioinformatics Institute (EMBL-EBI), Wellcome Genome Campus, Cambridge CB10 1SD, UK
---
10:55am - 11:25am
A nucleic acid structural alphabet and conformational analyses at dnatco.datmos.org
Institute of Biotechnology of the Czech Academy of Sciences, Vestec, Czech Republic
---
11:25am - 11:45am
Applications of residue contact predictions in structural biology.
1University of Liverpool, Liverpool, United Kingdom; 2Life Science, Diamond Light Source, Harwell Science and Innovation Campus, Didcot, Oxfordshire, United Kingdom; 3STFC, Rutherford Appleton Laboratory, Harwell Oxford, United Kingdom
---
11:45am - 12:05pm
Pepsi-SAXS/SANS - small-angle scattering-guided tools for integrative structural bioinformatics
1CNRS, Grenoble, France; 2ILL, Grenoble, France
---
12:05pm - 12:25pm
Refactoring the B-factor: intuitively extracting structural dynamics from macromolecular disorder
1Free University of Amsterdam, Amsterdam, The Netherlands; 2Utrecht University, Utrecht, The Netherlands
---
12:25pm - 12:45pm
Computational modeling of RNA 3D structures and RNA-protein complexes, with the use of experimental data
International Institute of Molecular and Cell Biology in Warsaw, Warsaw, Poland