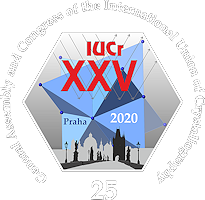 August 14 - 22, 2021 | Prague, Czech Republic
Conference Agenda
Overview and details of the sessions of this conference. Please select a date or location to show only sessions at that day or location. Please select a single session for detailed view (with abstracts and downloads if available).
Please note that all times are shown in the time zone of the conference. The current conference time is: 5th Dec 2023, 04:27:47pm CET
Session
MS-89: Fragment Screening, LCP, and Automation
Time:

Saturday, 21/Aug/2021:

10:20am - 12:45pm


Session Chair: Alice Douangamath
Session Chair: Lisa J. Keefe

Location: Club B



50 1st floor
Invited: Martin Noble (UK), Kenton Longenecker (USA)
Session Abstract
The increasing speed of detectors and the ever increasing automation and beam intensities at synchrotrons have made it possible to collect several hundred diffraction data sets within 24 hours of beam time. This had made extensive screening-by-crystallography experiments feasible. Fragments can be screened for binding in early-stage drug discovery approaches, metabilites can be screened for functional investigations, etc. Such experiments also require a different way of thinking about individual diffraction data sets. In a screening campaign consisting of several hundred data sets, the individual data sets are essentially meaningless. The power of such an experiments lies in the simultaneous analysis of all data sets at once.
Introduction
Presentations
10:20am - 10:25am
Introduction to session
---
---
---
11:25am - 11:45am
Using sound pulses to solve the crystal harvesting bottleneck
1Universidade Federal de Santa Maria, 97105-900 Santa Maria-RS; 2Department of Biology, College of William and Mary, Williamsburg, VA 23187, USA; 3Department of Biology, Stony Brook University, New York, NY 11794-5215, USA; 4Department of Biology, York College of Pennsylvania, York, PA 17403, USA; 5Department of Computer Science, Stony Brook University, New York, NY 11794-5215, USA; 6Department of Clinical Nutrition, Stony Brook University, New York, NY 11794-5215, USA; 7Department of Biomedical Engineering, Georgia Institute of Technology, Atlanta, GA 30332, USA; 8Energy Sciences Directorate, NSLS II, Brookhaven National Laboratory, Upton, NY 11973-5000 USA; 9Universidade Federal de Minas Gerais, 31270-901 Belo Horizonte-MG, Brazil
---
11:45am - 12:05pm
High throughput approach to prepare high-density microcrystals in lipidic cubic phase for serial crystallography and fragment screening
1National Physical Laboratory, Teddington, UK; 2Diamond Light Source, Harwell Science and Innovation Campus, Didcot, OX11 0DE, UK; 3Biochemistry Department, University of Oxford, South Parks Road, Oxford, OX1 3QU, UK
---
12:05pm - 12:25pm
Fragment-based development of bacterial DsbA inhibitors as novel anti-virulence agents
1Department of Biochemistry and Genetics, La Trobe Institute for Molecular Science, La Trobe University, Bundoora, VIC, 3086, Australia; 2Medicinal Chemistry, Monash Institute of Pharmaceutical Sciences, Monash University, Parkville, VIC, 3052, Australia; 3Institute of Health and Biomedical Innovation, Queensland University of Technology, Kelvin Grove, QLD, 4059; 4Griffith Institute for Drug Discovery, Griffith University, Nathan, QLD, 4111, Australia
---
12:25pm - 12:45pm
Efficiently from Library to Hit – Crystallographic Fragment Screening in Berlin via Structurally Diverse Compound Libraries
1Helmholtz-Zentrum Berlin, Macromolecular Crystallography; 22 Philipps-Universität Marburg, Institute of Pharmaceutical Chemistry, Drug Design Group; 3MAX IV Laboratory, BioMAX; 4Helmholtz-Zentrum Berlin, Department Sample Environment