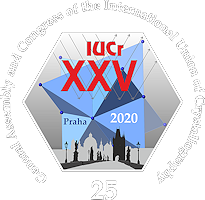 August 14 - 22, 2021 | Prague, Czech Republic
Conference Agenda
Overview and details of the sessions of this conference. Please select a date or location to show only sessions at that day or location. Please select a single session for detailed view (with abstracts and downloads if available).
Please note that all times are shown in the time zone of the conference. The current conference time is: 4th Dec 2023, 02:53:36pm CET
Session
MS-17: Automation in bio-crystallography: tools, perspectives and applications
Time:

Monday, 16/Aug/2021:

10:20am - 12:45pm


Session Chair: Santosh Panjikar
Session Chair: Melanie Vollmar

Location: Club A



170 1st floor
Invited: Katherine McAuley (UK), Jose Marquez (France)
Session Abstract
Automation in macromolecular crystallography from crystallisation, to crystal harvesting, sample mounting, data collection and data analysis as well as data management for large scale unattended and automated data collection.
For all abstracts of the session as prepared for Acta Crystallographica see PDF in Introduction, or individual abstracts below.
Introduction
Presentations
---
---
---
---
---
---