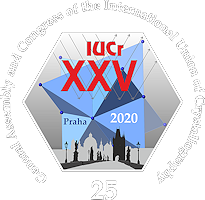 August 14 - 22, 2021 | Prague, Czech Republic
Conference Agenda
Overview and details of the sessions of this conference. Please select a date or location to show only sessions at that day or location. Please select a single session for detailed view (with abstracts and downloads if available).
Please note that all times are shown in the time zone of the conference. The current conference time is: 6th Dec 2022, 01:27:33am CET
Session
MS-99: Non-covalent interactions in crystal engineering II
Time:

Saturday, 21/Aug/2021:

2:45pm - 5:10pm


Session Chair: Giuseppe Resnati
Session Chair: Petra Bombicz

Location: Club D



50 1st floor
Invited: Andrea Pizzi (Italy), Christian Jelsch (France)

Presentations
2:45pm - 2:50pm
Introduction to session
---
2:50pm - 3:20pm
Seleninic acids as chalcogen bond donors: a molecular insight of GPx activity
1Politecnico di Milano, Milano, Italy; 2Indian Institute of Technology; 3Monash University; 4IITB-Monash Research Academy
---
3:20pm - 3:50pm
Deciphering the driving forces in crystal packings by analysis of hydrogen bonds, electrostatic energies and contact enrichment ratios.
1CRM2 CNRS Université de Lorraine, Vandoeuvre les Nancy, France; 2University Felix Houphouet-Boigny, Abidjan, Côte d'Ivoire
---
3:50pm - 4:10pm
The role of S-bond in tenoxicam keto–enolic tautomerization.
1Novosibirsk State University, Novosibirsk, Russian Federation; 2Boreskov Institute of Catalysis SB RAS; 3International Tomography Center; 4National Research Center "Kurchatov Institute"; 5Center for Energy Science and Technology, Skoltech Skolkovo Institute of Science and Technology
---
4:10pm - 4:30pm
Evolution of halogen bonding interactions in a co-crystal system: X-ray diffraction under pressure in lab
1Université de Lorraine, CNRS, CRM2, UMR 7036, Nancy 54000, France; 2Institut des Sciences Chimiques de Rennes (ISCR), UMR CNRS 6226, Université de Rennes 1, Campus de Beaulieu, 35042 Rennes, France
---
4:30pm - 4:50pm
Tuning mechanical responses of crystalline cadmium(II) coordination polymers through cyano functionality and halide anions
Faculty of Science, University of Zagreb, Zagreb, Croatia
---
4:50pm - 5:10pm
Halogen Bonding for Aromatic Hydrocarbon Assembly in the Solid State
McGill University, Montreal, Canada