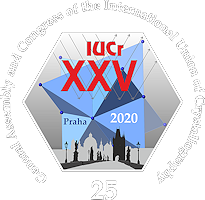 August 14 - 22, 2021 | Prague, Czech Republic
Conference Agenda
Overview and details of the sessions of this conference. Please select a date or location to show only sessions at that day or location. Please select a single session for detailed view (with abstracts and downloads if available).
Please note that all times are shown in the time zone of the conference. The current conference time is: 3rd Dec 2022, 03:28:45am CET
Session
MS-67: Crystallization mechanisms of small molecule systems
Time:

Thursday, 19/Aug/2021:

2:45pm - 5:10pm


Session Chair: Duane Choquesillo-Lazarte

Location: Terrace 2B



100 2nd floor
Invited: Ian Rosbottom (UK), Aurora Cruz-Cabeza (UK)
Session Abstract
For all abstracts of the session as prepared for Acta Crystallographica see PDF in Introduction, or individual abstracts below.
Presentations
2:45pm - 2:50pm
Introduction to session
---
2:50pm - 3:20pm
CAN MOLECULAR FLEXIBILITY CONTROL CRYSTALLISATION?
University of Manchester, Manchester, United Kingdom
---
3:20pm - 3:50pm
Molecular, Solid-State and Surface Structures of the Conformational Polymorphic Forms of Ritonavir in Relation to their Physicochemical Properties
School of Chemical and Process Engineering, University of Leeds, LS2 9JT
---
3:50pm - 4:10pm
Bridging the nucleation step – the link of molecular interactions in dilute solutions and the crystal structure
University of Manchester, Manchester, United Kingdom
---
4:10pm - 4:30pm
Controlling polymorphism of pharmaceutical cocrystals via polymer assisted cocrystallization in continuous processes
Department of Drug Forms Technology, Wroclaw Medical University, Wroclaw, Poland
---
4:30pm - 4:50pm
Crystallization of anionic small molecules with the help of a cation screen
University of Zurich, Zurich, Switzerland
---
4:50pm - 5:10pm
The Future of Co-crystallisation: A New Workflow Based on AI Predictions, the Crystal16 Platform and Electron Diffraction
1Technobis Crystallization Systems B.V., Alkmaar, The Netherlands; 2ELDICO Scientific AG, 5234 Villigen, Switzerland; 3TeraCrystal, Cluj Napoca, Romania