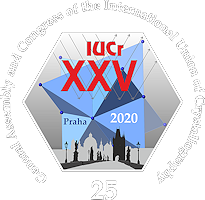 August 14 - 22, 2021 | Prague, Czech Republic
Conference Agenda
Overview and details of the sessions of this conference. Please select a date or location to show only sessions at that day or location. Please select a single session for detailed view (with abstracts and downloads if available).
Please note that all times are shown in the time zone of the conference. The current conference time is: 6th Dec 2022, 02:23:19am CET
Session
MS-53: Function and application of porous crystals
Time:

Wednesday, 18/Aug/2021:

2:45pm - 5:10pm


Session Chair: Karena Chapman
Session Chair: Fernando Uribe-Romo

Location: Club C



50 1st floor
Session Abstract
For all abstracts of the session as prepared for Acta Crystallographica see PDF in Introduction, or individual abstracts below.
Presentations
2:45pm - 2:50pm
Introduction to session
---
2:50pm - 3:20pm
Densely Packed UV-Visible Light Responsive Photocatalytic Pairs in Hexagonally Arrayed Silicate Nanochannels for Hydrogen Production
1National Synchrotron Radiation Research Center (NSRRC), Hsinchu, Taiwan; 2National Tsing Hua University Department of Chemical Engineering; 3Tunghai University Department of Chemistry
---
3:20pm - 3:50pm
MOFs as hosts to analogues of complex magnetic phases
1Imperial College London, United Kingdom; 2Université Paris Sciences et Lettres, France; 3University of Oxford, Oxford, United Kingdom
---
3:50pm - 4:15pm
NMR crystallography of 2D and 3D assemblies of functional molecules
Institute of Organic Chemistry and Biochemistry AS CR, Prague, Czech Republic
---
4:15pm - 4:40pm
From CO2 to dimethyl ether: mesostructured acidic oxides for methanol dehydration to design bifunctional catalysts
1University of Cagliari, Monserrato (CA), Italy; 2Sotacarbo SpA, Carbonia (SU), Italy; 3Humboldt University, Berlin, Germany