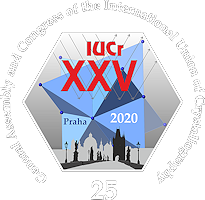 August 14 - 22, 2021 | Prague, Czech Republic
Conference Agenda
Overview and details of the sessions of this conference. Please select a date or location to show only sessions at that day or location. Please select a single session for detailed view (with abstracts and downloads if available).
Please note that all times are shown in the time zone of the conference. The current conference time is: 6th Dec 2022, 02:41:37am CET
Session
MS-5a: Crystal structure prediction
Time:

Sunday, 15/Aug/2021:

10:20am - 12:45pm


Session Chair: Qiang Zhu

Location: Terrace 2A



130 2nd floor
Invited: Ivan Kruglov (Russia), Graeme Day (UK)
Session Abstract
For all abstracts of the session as prepared for Acta Crystallographica see PDF in Introduction, or individual abstracts below.
Presentations
10:20am - 10:25am
Introduction to session
---
10:25am - 10:55am
T-USPEX - novel method for crystal structure prediction at finite temperatures
1Dukhov Research Institute of Automatics (VNIIA), Moscow, Russia; 2Moscow Institute of Physics and Technology, Dolgoprudny, Russia; 3Skolkovo Institute of Science and Technology, Moscow, Russia; 4Northwestern Polytechnical University, Xi'an, China
---
10:55am - 11:25am
Functional materials exploration through evolutionary searching and large-scale crystal structure prediction
University of Southampton, Southampton, United Kingdom
---
11:25am - 11:45am
Design of metal-organic frameworks: from theoretical structure and reactivity predictions to mechanochemical synthesis and screening
1Faculty of Chemistry, University of Warsaw, Warsaw 02-093, Poland; 2Engineering Department, University of Cambridge, Cambridge CB2 1PZ, U.K; 3Department of Chemistry, McGill University, Montreal H3A 0B8, Canada; 4School of Metallurgy and Materials, University of Birmingham, Edgbaston, Birmingham B15 2TT, U.K.
---
11:45am - 12:05pm
CCDCGAN: Deep learning prediction of crystal structures
Institute of Materials Science, Technical University of Darmstadt, 64287 Darmstadt, Germany
---
12:05pm - 12:25pm
Computational design and prediction of solid-state properties of metal-organic frameworks
1University of Warsaw, Warsaw, Poland; 2Department of Engineering, University of Cambridge; 3Peter A. Rock Thermochemistry Laboratory and NEAT ORU, University of California Davis; 4Department of chemistry, McGill University; 55School of Metallurgy and Materials, University of Birmingham; 6School of Molecular Sciences and Center for Materials of the Universe, Arizona State University
---
12:25pm - 12:45pm
Computational search for new high-TC superconductors based on lanthanoid and actinoid hydrides at moderate pressures
1Skolkovo Institute of Science and Technology, Moscow, Russian Federation; 2Dukhov Research Institute of Automatics (VNIIA); 3Moscow Institute of Physics and Technology; 4Northwestern Polytechnical University