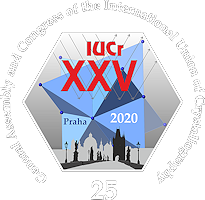 August 14 - 22, 2021 | Prague, Czech Republic
Conference Agenda
Overview and details of the sessions of this conference. Please select a date or location to show only sessions at that day or location. Please select a single session for detailed view (with abstracts and downloads if available).
Please note that all times are shown in the time zone of the conference. The current conference time is: 26th Nov 2022, 02:18:24pm CET
Session
MS-104: Diffraction imaging, grain mapping in materials and art
Time:

Saturday, 21/Aug/2021:

2:45pm - 5:10pm


Session Chair: Jonathan Paul Wright
Session Chair: Sine Larsen

Location: Terrace 2A



130 2nd floor
Invited: Ashley Bucsek (USA), Frederik Vanmeert (Belgium)
Session Abstract
Most technically important metallic and ceramic engineering materials are polycrystalline and their properties are influenced by grain-scale effects relating to the orientation, size and shape of individual grains or clusters of grains. The ability to characterise crystallographic microstructure, non-destructively and in three-dimensions, is critical for understanding many properties of polycrystalline materials.
Presentations
2:45pm - 2:50pm
Introduction to session
---
2:50pm - 3:20pm
Macroscopic X-ray powder diffraction imaging for the study of oil paintings
1AXES Research Group, NANOLab Centre of Excellence, University of Antwerp, Antwerp, Belgium; 2Laboratory Department, Royal Institute for Cultural Heritage, Brussels, Belgium
---
3:20pm - 3:50pm
A multiscale, multimodal approach to studying static recrystallization in Mg-3Zn-0.1Ca
1University of Michigan, Ann Arbor, United States of America; 2European Synchrotron Radiation Facility, Grenoble, France; 3Cornell High Energy Synchrotron Source, Ithaca, United States of America
---
3:50pm - 4:10pm
Trindex - 3D Grain Orientation Mapping with Neutron Imaging
1University of New South Wales, Australia; 2Paul-Scherrer Institute, Switzerland; 3Institute of Physics, Czech Republic; 4Japan Proton Accelerator Research Complex (J-PARC), Japan; 5Technical University of Denmark, Denmark; 6European Spallation Source ERIC, Sweden
---
4:10pm - 4:30pm
New advanced tools for processing and analysis of 2D X-ray diffraction data: XRD2DScan software 7.0
1Universidad de Granada, 18002 Granada, Spain; 2Malvern Panalytical B.V., 7602 EA Almelo, The Netherlands
---
4:30pm - 4:50pm
Visualizing the Dynamics of Subsurface Defects with Time-Resolved Dark-Field X-ray Microscopy
Lawrence Livermore National Lab, Livermore, United States of America
---
4:50pm - 5:10pm
Diffraction imaging and tomography investigations on the hydration of gypsum plaster
1European Synchrotron Radiation Facility, 71 Avenue Des Martyrs, 38040 Grenoble , France; 2Institut de science de la Terre, Université Grenoble Alpes, 1381 Rue de la Piscine, 38610 Gières, France