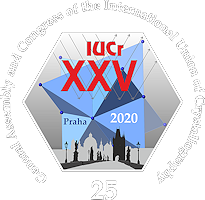 August 14 - 22, 2021 | Prague, Czech Republic
Conference Agenda
Overview and details of the sessions of this conference. Please select a date or location to show only sessions at that day or location. Please select a single session for detailed view (with abstracts and downloads if available).
Please note that all times are shown in the time zone of the conference. The current conference time is: 28th Nov 2023, 11:22:26pm CET
Session
MS-90: Structure solution and poorly crystalline materials
Time:

Saturday, 21/Aug/2021:

10:20am - 12:45pm


Session Chair: Angela Altomare

Location: Terrace 2A



130 2nd floor
Invited: Martin Schmidt (Germany), Katharine Page (USA)
Session Abstract
Structure solution from powder diffraction data has featured at many past IUCR congresses. The development of high-resolution and high-accuracy diffractometers coupled with increasing computational power have pushed the limits of the complexity of tractable problems. The boundary now sits with samples that are poorly crystalline.
Introduction
Presentations
---
---
---
---
---
---