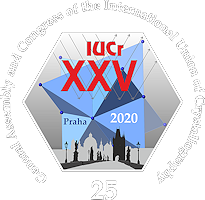 August 14 - 22, 2021 | Prague, Czech Republic
Conference Agenda
Overview and details of the sessions of this conference. Please select a date or location to show only sessions at that day or location. Please select a single session for detailed view (with abstracts and downloads if available).
Please note that all times are shown in the time zone of the conference. The current conference time is: 1st Dec 2023, 04:03:35am CET
Session
MS-20: Dynamic frameworks
Time:

Monday, 16/Aug/2021:

10:20am - 12:45pm


Session Chair: Christopher SUMBY
Session Chair: Michael John Zaworotko

Location: Club C



50 1st floor
Invited: Hoi Ri Moon (Republic of Korea), Yao Chen (China)
Session Abstract
Dynamic behaviour and structural flexibility are important properties of extended frameworks, such as Metal-organic Frameworks (MOFs), and in porous solids composed of molecular materials, like Metal-organic Polyhedra (MOPs) and Porous Organic Cages (POCs).  In extended materials this can be realised as breathing or stimulus-response, providing access to unexpected porosity or sensing behaviour.  For molecular materials, which lack strong bonding between components, structural transformations in response to sorbents can be profound, leading to advantageous sorption and separation processes. This session will examine the dynamic behaviour and structural flexibility of both molecular and extended porous frameworks, with a focus on phase transitions, which can be monitored by X-ray crystallography.
For all abstracts of the session as prepared for Acta Crystallographica see PDF in Introduction, or individual abstracts below.
Introduction
Presentations
---
---
---
---
---
---