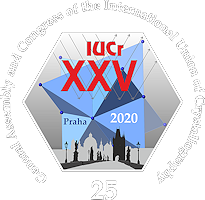 August 14 - 22, 2021 | Prague, Czech Republic
Conference Agenda
Overview and details of the sessions of this conference. Please select a date or location to show only sessions at that day or location. Please select a single session for detailed view (with abstracts and downloads if available).
Please note that all times are shown in the time zone of the conference. The current conference time is: 22nd Sept 2023, 07:42:35pm CEST
Session
MS-13: Porous framework materials for gas adsorption/separation
Time:

Sunday, 15/Aug/2021:

2:45pm - 5:10pm


Session Chair: Angiolina Comotti
Session Chair: Ryotaro Matsuda

Location: Club C



50 1st floor
Invited:  Michael  Zaworotko (Ireland) , Catharine Esterhuysen (South Africa)
Session Abstract
Porous crystalline materials are excellent candidates for the development of new strategies that have an impact in the energetic and environmental issues. The symposium will focus on recent advances in the design of new porous materials and new approaches for the adsorption and selective capture of gases of interest, including their dynamics and flexibility. Particular emphasis will be given to in-situ structural characterization and spectroscopic methods combined with computational calculations for the observation of gases in the confined nanospace and the dynamical properties.
For all abstracts of the session as prepared for Acta Crystallographica see PDF in Introduction, or individual abstracts below.
Introduction
Presentations
---
---
---
---
---
---