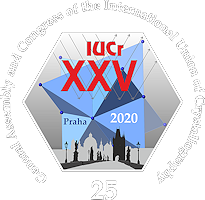 August 14 - 22, 2021 | Prague, Czech Republic
Conference Agenda
Overview and details of the sessions of this conference. Please select a date or location to show only sessions at that day or location. Please select a single session for detailed view (with abstracts and downloads if available).
Please note that all times are shown in the time zone of the conference. The current conference time is: 6th Dec 2022, 01:15:29am CET
Session
MS-18a: Phase transitions in complex materials (structure and magnetism) I
Time:

Monday, 16/Aug/2021:

10:20am - 12:45pm


Session Chair: Yuichi Shimakawa
Session Chair: Alexandra Gibbs

Location: Terrace 2B



100 2nd floor
Invited: Midori Amano Patino (Japan), Patrick Woodward (USA)
Session Abstract
Phase transitions are both of fundamental interest to crystallographers but are also of immense technical interest, for example ferroic materials undergo a large variety of phase transitions and also exhibit important physical properties, many of which are used in industries world-wide in the form of single crystals, ceramics and thin films. The study of crystallographic phase transitions provides useful ways to understand the origin of the properties, and thus to suggest new materials.
For all abstracts of the session as prepared for Acta Crystallographica see PDF in Introduction, or individual abstracts below. The session continues by MS101 (18b).
Presentations
10:20am - 10:25am
Introduction to session
---
10:25am - 10:55am
Phase Transitions in Hybrid Layered Halide Perovskites – Hydrogen Bonding Meets Octahedral Tilting
Ohio State University, Columbus, United States of America
---
10:55am - 11:25am
Complex A-site magnetism in quadruple perovskite materials
1ICR, Kyoto University, JP; 2Hakubi Center for Advanced Research, Kyoto University, JP; 3Institute of Materials Structure Science, KEK, JP; 4ISIS Neutron and Muon Source, UK; 5Department of Physics, University of Oxford, UK; 6CSEC, The University of Edinburgh, UK
---
11:25am - 11:45am
Charge order-disorder crossover and Co-O bond anomalies in the Co3O2BO3 ludwigite
1quot;Gleb Wataghin" Institute of Physics, University of Campinas (UNICAMP), Campinas, São Paulo, 13083-859, Brazilb Wataghin" Institute of Physics, University of Campinas (UNICAMP); 2Instituto de Física, Universidade Federal Fluminense, Campus da Praia Vermelha, Niterói, RJ, 24210-346, Brazil; 3European Synchrotron Radiation Facility, 38043 Grenoble, France; 4Instituto de Física, Universidade Federal do Rio Grande do Sul (UFRGS), Porto Alegre, RS, 90040-060, Brazil; 5Institut Laue Langevin, 38042 Grenoble, France; 6Institut Néel / CNRS-UJF, 38042 Grenoble, France; 7Departamento de Física , Universidade Federal de Minas Gerais, Belo Horizonte, MG, 31270-901, Brazil
---
11:45am - 12:05pm
Competition between spin-orbit coupling and molecular orbital crystal in pyrochlore ruthenate In2Ru2O7
1ISIS Neutron and Muon Source, Didcot, United Kingdom; 2Max Planck Institute for Solid State Research, Stuttgart, Germany; 3Institute for Functional Matter and Quantum Technologies, University of Stuttgart, Stuttgart, Germany; 4School of Chemistry, University of St Andrews, St Andrews, United Kingdom; 5Department of Physics, University of Tokyo, Tokyo, Japan
---
12:05pm - 12:25pm
Cation order and magnetic behaviour in mixed metal bismuth scheelite Bi3FeMo2O12
1School of Chemistry, University of Sydney, Sydney, NSW 2006, Australia; 2Department of Chemistry & Biochemistry, University of South Carolina, 1212 Greene Street, Columbia, SC 29208; 3Australian Centre for Neutron Scattering, ANSTO, New Illawarra Road, Lucas Heights NSW 2234, Australia
---
12:25pm - 12:45pm
Correlated disorder-to-order crossover in the local structure of KxFe2-ySe2-zSz superconductor
1Brookhaven National Laboratory, Upton, NY, United States of America; 2IESL FORTH, Heraklion, Greece; 3University of Erlangen-Nuremberg, Erlangen, Germany.; 4Oak Ridge National Laboratory, Oak Ridge, TN, United States